Will I suffer shock hair loss after a hair transplant?
20th November 2018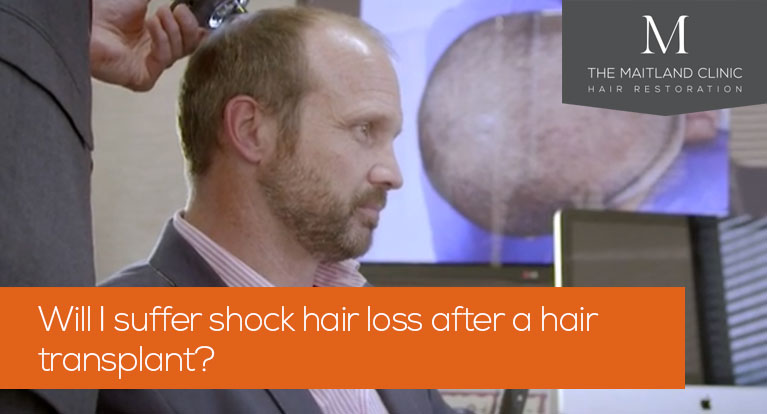 If you are considering an FUE or FUT hair transplant you may have heard of the phenomenon of 'shock loss' after hair transplant surgery. But what is shock hair loss – and will you suffer it after your transplant?
'Shock hair loss' usually happens between two and eight weeks after an FUT or FUE hair transplant, when your new hair grafts enter a resting phase and the hairs are shed. This is a perfectly normal and natural process and is nothing to worry about. Your new, healthy hairs will soon begin to grow in their place.
Despite the name, there's nothing to be 'shocked' about when you experience shock hair loss after a transplant. You can prepare for it and take steps to care for your new grafts as your new hairs begin to grow.
Here's what you need to know…
Why does shock hair loss occur after a transplant?
Both the Follicular Unit Transplant (FUT) and Follicular Unit Excision (FUE) procedures involve removing hair grafts from the 'donor' areas of the scalp, where hairs are programmed to continue growing for life, and transplanting them into the 'recipient' areas affected by hair loss.
In an FUT transplant a strip of skin is removed from the donor area, while in an FUE transplant the follicles are excised individually – but in either procedure the treatment of the recipient area is the same. The surgeon makes a series of microscopic slits in the scalp and then carefully places the individual follicles into these recipient sites. This is a highly skilled process and to achieve a natural look the surgeon must pay great attention to the positioning of the grafts and the pattern and angle of hair growth.
The new hair grafts will stay in place for a while, but after a period – usually between two and eight weeks – the follicles will enter a 'resting' phase. During this time the transplanted hairs will shed.
This shedding does not mean that the procedure has failed to work, nor that the are follicles being 'rejected' by the scalp. Rather, it is a natural response to the surgery. The grafts remain healthy and – so long as proper aftercare steps are taken – new, healthy, permanent hairs will begin to grow in the recipient areas of the scalp.
It is thought that taking hair loss medication such as finasteride or minoxidil may help to stabilise hair and reduce the risk of shock loss. A skilled surgeon will also be able to take certain measures during hair transplant surgery to minimise this risk.
Can shock hair loss occur in other areas of the scalp after hair transplant surgery?
If new hair grafts are transplanted into an area of the scalp where there are already a number of thinning hairs, these hairs can sometimes also fall out as a response to the trauma of the surgery. But this is not uncommon and it is only temporary. The follicles remain healthy and in time new hairs will grow through.
Occasionally patients having either an FUE or FUT procedure can find that they experience shock hair loss in the donor area where the hair has been harvested. However, a skilled surgeon will be able to minimise the risk of this happening – and again, the hair loss should only be temporary.
When will the new hair grow after the shock hair loss?
Your hair grafts will typically shed between two weeks and two months after your transplant.
You will now be in a 'resting phase' in which your scalp will look very much like it did before surgery, so patience is required!
New hairs will usually start to grow from about four months after surgery. At first these may be very fine and not really visible – though you will be able to feel them with your fingertips – and they will also grow at different rates. However, they are permanent and you can treat these new hairs just like the rest of your hair.
Then from 10 to 15 months after your transplant your new hairs will thicken, mature and behave more like your original hair. This is the average time for the full final results of your hair transplant to be visible (you may even have had several haircuts by now!)
Looking after new hair grafts
Although it is not possible to prevent shock hair loss following a hair transplant, since it is a natural part of the process, there are things you can do to look after your new hair grafts.
Don't touch – Immediately after surgery it is very important not to touch your hair grafts until at least day 6.
Keep moisturised – You can protect your new grafts and keep them from becoming too dry with special sprays. These will need to be used regularly, particularly in the first few days after your procedure. At The Maitland Clinic we provide patients with state-of the-art Liposomal ATP aftercare sprays which optimise the healing and growth of the grafts.
Sleep with a neck pillow – When your grafts are very new it's advisable to sleep with a supportive neck cushion, to reduce the risk of rubbing your scalp against a pillow in your sleep.
Watch a patient video diary
One of The Maitland Clinic's FUT patients has kept a comprehensive video diary, sharing his experiences from surgery through to a year of hair growth.
In this entry, filmed one month after his transplant, he talks about the shedding of his hair grafts and how it feels:
As you can see from this final entry 11 months after his transplant, this patient enjoyed exceptional results.
Consultation and aftercare at the The Maitland Clinic
At The Maitland Clinic we provide one-to-one advice and full information before you decide to have a hair restoration procedure.
You'll be able to talk openly and confidentially about all your concerns. David Anderson, our Senior Patient Adviser, is himself a former hair transplant patient so he understands exactly what you're going through. He and will be able to give you an honest picture of what you can expect to experience before, during and after your transplant, including the process of shock hair loss.
Meanwhile our surgeon and Medical Director, Dr Edward Ball, is also himself a former patient, having undergone pioneering surgery in the USA. Dr Ball will give you a full examination and consultation before your procedure, and will be available after surgery with advice and help.
The Maitland Clinic provides a complete aftercare service, including regular check-up appointments and consultations at important stages in the recovery process. We're always keen to hear how our patients are getting on in the months and years following their transplant.
A hair restoration is something that should last throughout your life, and our aftercare service reflects that. Read more about our patient aftercare here.
To arrange a consultation please contact us, or call on 02392 706 122.