How short can I cut my hair after a hair transplant?
2nd March 2020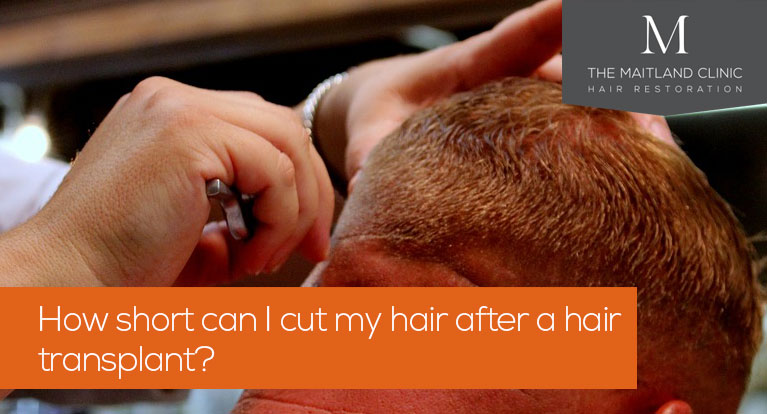 Following a hair transplant, many patients are keen to know when, and how, they can style their hair. One of the questions we are often asked is, "how short can I cut my hair after a hair transplant?", plus details on whether it's ok to even shave your head.
Here are some of the key points to consider before making that first post-op trip to the barber or hair salon.
How short you can cut your hair after a hair transplant largely depends on which surgical technique has been used. Patients who have undergone an FUE hair transplant can usually wear their hair very short, for example, a number 1 or 2 grade cut.
We have some patients who manage to shave their hair to a grade 0 after an FUE surgery. However, individuals who have undergone FUT surgery may need to wear their hair at grade 4, or longer, to conceal the linear scar that is left by the procedure.
How long after a hair transplant can I cut my hair?
Following a hair transplant, there will be some scabbing in the recipient area of the scalp. You may also experience some swelling and initial discomfort, although this will soon subside. During the first 5 days, the newly implanted grafts are very fragile and you should take care not to touch them.
We usually advise patients to wait for 8-10 days before cutting their hair. At this point, the grafts are secure and you should be safe to get a haircut without damaging them or jeopardising your recovery. However, bear in mind that the longer you wait, the more time the scars and redness will have had to settle, and the thicker your hair will be. It's also worth noting that noticeable new hair growth doesn't usually occur until around 4 months after a hair transplant, with most patients seeing the majority of growth between 5 and 12 months.
After surgery, you are always welcome to pop in for a check-up or send us some photos so we can check your scalp and make sure it's healing as expected. We take patient aftercare very seriously at The Maitland Clinic, and Dr Ball is always happy to speak to patients about their recovery and offer advice and support when called upon.
How short can I cut my hair after a hair transplant?
This depends on the type of hair transplant you've undergone and how conscious you are about revealing any scarring.
As we've already discussed, FUT surgery does leave a linear scar, although Dr Ball has developed an excellent reputation for neat stitching and fine scars. To conceal the donor scar, you may need to wear your hair at grade 4, or longer (although patients sometimes find that they can cut their hair shorter).
Patients who've undergone an FUE hair transplant, however, can normally wear their much shorter, for example, a number 1 or 2 grade. This is because, when performed by an experienced and reputable surgeon such as Dr Ball, FUE surgery only leaves a series of tiny dot scars on the scalp. These scars are typically less than 1mm and are very difficult to see with the naked eye. You can read more about this in our blog post, "Does an FUE transplant leave scars?"
While FUE may be preferable for patients who like to keep their hair very short, the procedure isn't suitable for everyone and FUT has its own advantages. During the consultation period, Dr Ball will discuss the various options with you to help you decide on the best course of treatment.
Can I shave my head after a hair transplant?
Yes, it is possible to shave your head after an FUE hair transplant, and we recommend waiting for 8-10 days before doing so. However, one shouldn't wet shave the treated areas for at least 3 months after surgery.
When FUE grafts are harvested cautiously, and in a diffuse pattern, the dot scars left by the procedure are not normally noticeable in everyday life. So, assuming you've cared for your grafts correctly, it is possible to shave your head without showing any obvious signs of your hair transplant surgery. However, every patient is different so it's best to speak to your surgeon before shaving your head.
Trimming tips after a hair transplant
Once your scalp has healed and your new hair has had time to grow, you are free to style it as you choose.
It's important to take extra care when using hair clippers, particularly in the donor and recipient areas of the scalp. Even after the scabs have fallen off, the scars can be quite sensitive for a while, so we recommend that you try to avoid using clippers in the first few weeks after your surgery.
In the early stages following a hair transplant, some men opt for a short hairstyle to disguise the difference in length between their natural hair and the donor hair. Other patients prefer to go for a longer style to cover up the treated areas that are still growing. Speak to the clinic or to your stylist for advice on which hairstyle may work best for you.
Your first haircut after seeing the new growth from your hair transplant marks an exciting time in your hair restoration journey. Many patients enjoy the process of experimenting with hairstyles to find a new look that works for them.
About the hair transplant process
Before we look at hair cutting in more detail, it's important to understand what happens during a hair transplant.
The two main hair transplant techniques used today are Follicular Unit Extraction/Excision (FUE) and Follicular Unit Transfer (FUT or 'Strip'). Both of these procedures are performed regularly at The Maitland Clinic by our lead surgeon and world-renowned hair restoration expert, Dr Edward Ball.
During the FUE process, the donor area of the scalp is shaved and follicular unit grafts are extracted individually from the head using a 0.8mm to 1mm 'punch' device. The grafts are then placed into tiny slits in the balding (recipient) area of the patient's scalp. When executed with care and precision, and with good patient skin characteristics, the procedure leaves a series of tiny dot scars that are scarcely visible to the naked eye at most hair lengths.
The FUT technique, however, involves removing a healthy strip of hair-bearing skin from the donor area of the scalp, typically at the back of the head. The strip is then divided into tiny grafts of individual follicular units comprised of one to four hairs. As with FUE, these units are then implanted into tiny incisions in the recipient areas of the scalp. The site of the donor strip is closed using small stitches which, once healed, leave a linear scar.
Hair transplants at The Maitland Clinic
The Maitland Clinic has an excellent record of performing successful FUE and FUT hair transplants. Dr Ball's technical skill and artistic eye enable him to create a natural look that blends seamlessly with your natural hair, while also keeping scarring to a minimum.
But our commitment doesn't end once your surgery is over. We encourage you to stay in touch with us for ongoing support and help to monitor the progress of your new hair growth, as well as advice on caring for your scalp.
You're welcome to return to us at any point, giving you peace of mind and a lifetime of professional hair care. You can read more about our exceptional aftercare service here.
To book a consultation please call us on 02392 706 122 or email us at enquiries@themaitlandclinic.com