Initial consultation
We carry out initial educational consultations by email or video call with our senior patient advisor, David Anderson. This helps to reduce travel and our patients find it to be a convenient way to gather general information regarding hair restoration principles. The next step for an assessment, diagnosis and exploration of treatment options involves an in-person consultation with our hair transplant surgeon, Dr Edward Ball, or our trichologist, Eva Proudman.
If you would like to start the consultation process we ask you to complete a short, confidential form and upload some photos. The form can be accessed by clicking on the icon below.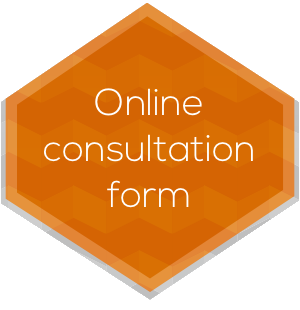 After completing the online form a member of our team will be in contact to recommend the best next steps for your particular situation. Please allow up to 10 working days for this. All new patient enquiries will need to fill out the online consultation form as a first step. Please note that there is currently a waiting time of 5 months for the next available surgery dates.
At The Maitland Clinic, we take long term planning of surgical hair restoration very seriously. As hair loss is progressive in most cases, the need to prevent further hair loss is essential. Therefore, it is unlikely that we would recommend surgery as an option for male patients under the age of 30, unless their hair loss has been stabilised using non-surgical treatments. You may find it helpful to read our blog about who is a candidate for hair transplant surgery.
Younger patients, those with diffuse thinning throughout their scalp and patients with recent onset hair loss are likely to be directed to see our trichologist and non-surgical hair loss specialist Eva Proudman. This is an excellent option for those wishing to establish a diagnosis and stabilise their hair loss using non-surgical treatments. Consultations with Eva are priced from £130. Eva is able to meet patients for consultations at both our main Portsmouth clinic and our Harley Street venue.
Surgical treatments
At The Maitland Clinic we only ever have one surgical patient each day, so you are the sole focus of attention for Dr Ball and his team. With the entire day committed to you, Dr Ball is able to take time and immense care over every graft he personally extracts. He uses his artistic eye to carefully select softer hairs to create the most natural hairlines and stronger hairs for density and coverage.
Prices include all your post-operative products and 24/7 aftercare with Dr Ball and the team.
Follicular Unit Extraction (FUE)
Our FUE pricing is a calculated according to a flat rate of £5 per graft. Example prices are as follows:
1000 grafts: £5,000
1500 grafts: £7,500
2000 grafts: £10,000
Please note there is a minimum fee that applies for small cases under 1000 grafts.
Follicular Unit Transplantation (FUT)
Our FUT pricing is calculated on a sliding scale. Prices start at £4 per graft. Example prices are as follows:
1000 grafts: £4,000
1500 grafts: £6000
2000 grafts: £8,000
Each additional graft over 2000 is charged at £3 per graft.
Please note there is a minimum fee that applies for small cases under 1000 grafts.
Small cases
For patients requiring less than 1000 grafts the total cost would be provided on a case by case basis and can only be established once seen in person for a consultation.
Note
Patients are advised to seek an in-person consultation with The Maitland Clinic when comparing graft numbers and prices between different clinics. From our experience, these can differ greatly from one clinic to the next. Making choices simply based on graft numbers and pricing can lead to disappointment.
Truly great results come from an understanding of how to make every graft count; using the best technique to maximise graft survival rates, preserve the precious donor supply and create beautifully natural hairlines.
Non-surgical treatments
Trichology
Patients concerned about sudden hair loss or general (diffuse) thinning throughout the scalp are rarely surgical candidates and a diagnosis needs to be made before treatment can be recommended. Eva Proudman MIT IAT is a consultant trichologist and specialises in the diagnosis and non-surgical treatment of hair loss. Consultations with Eva are priced from £130.
Platelet-Rich Plasma (PRP) scalp injection therapy
Not all PRP treatments are the same. It is important to know that your PRP treatment is evidence-based, using the latest technology in sterile conditions. Our PRP treatments are performed using the most advanced techniques and centrifuge devices. This enables us to obtain the highest quality plasma, with the optimal concentration of platelets in a sterile setting.
A single PRP treatment for half the top of the head starts from £395 at our Portsmouth clinic. Treatment is commenced with a loading regime of 3 treatments, one month apart. Maintenance treatments are then performed every 4-6 months, depending on your individual response. Package prices for 3 treatments can be purchased in advance at a reduced rate.
Platelet-rich plasma (PRP) treatments are available Tuesday to Friday at our Portsmouth clinic.
Low Level Laser Therapy (LLLT)
We recommend the Theradome laser helmet for treating male and female pattern hair loss (androgenetic alopecia). The Theradome laser helmet is priced at £795. If you would like to enquire about the laser helmet please get in touch on on 02392 706 122 or enquiries@themaitlandclinic.com.