Is an FUE hair transplant permanent? + more questions to ask before having a procedure
3rd December 2018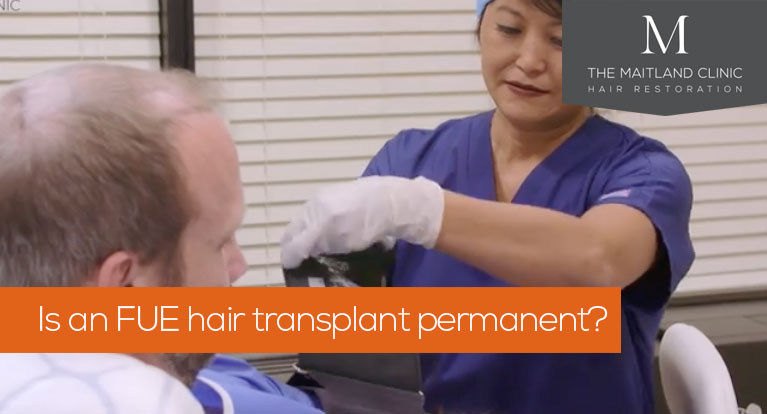 One of the most common concerns raised by people considering an FUE hair restoration procedure and hair transplant surgery is whether the results will be permanent. Can a single treatment effectively 'cure' baldness forever, or will you need to have multiple procedures through your life?
So is an FUE hair transplant permanent?
An FUE transplant is a permanent solution to hair loss in the sense that the hair follicles transferred to areas of loss are genetically programmed to continue growing for life. However, over their lifetime some patients may require more than one procedure to maintain their desired overall look.
This article explains why…
How an FUE hair transplant works
FUE – Follicular Unit Excision (also known as Follicular Unit Extraction) hair transplant surgery is the most advanced and effective treatment for hair loss in the world. It involves removing individual hair follicles from the areas of the scalp where they are genetically programmed to continue growing for life (usually the back or sides of the head). The surgeon then carefully places them into the areas of hair loss. (Read more about FUE here and also the similar FUT procedure here).
In the early stages after the hair transplant procedure these new hair grafts will naturally shed, but over the next 10 to 15 months the new hairs will grow, thicken, mature and will behave like your original hair. In most cases, if the surgeon has the right combination of technical skill and artistry, the results are excellent. With proper aftercare, the transplant will usually last for life.
Why transplanted hair follicles are 'permanent'…
Your transplanted hair follicles will retain the characteristics of their origin and continue to grow for life, despite having been moved to an area where hair loss is occuring (a concept known as "donor dominance"). Your newly transplanted hair is not more 'fragile' than your normal hair. You can wash it, cut it and generally treat it as you do your original hair.
...But why you might need more than one FUE treatment / hair transplant
One of the greatest challenges when planning and performing a successful hair transplant is the fact that hair loss tends to be a progressive process. This means that whilst transplanted hair will remain longterm, original native hair is likely to continue to thin. This can require more than one FUE treatment in order to maintain hair density in the face of ongoing hair loss.
Many patients are happy to undergo further FUE hair transplants to maintain their hair density and coverage. However, the fact that our donor hair is in limited supply means that one cannot usually replace all the hair that is likely to be lost in a lifetime. For this reason, the best results are often achieved when a patient takes hair loss medication to prevent or slow down future thinning.
Also, although modern hair transplant techniques allow us to transplant in increasingly high densities, it is not usually possible to replicate the density of the original hair. This is because excessively dense packing of incisions would cause too much trauma, which would be detrimental to skin and hair healing. So it is not uncommon to undergo more than one hair transplant procedure during your hair restoration journey in order to add density to a previously transplanted area.
You might also wish to have additional procedures to address a new area of the scalp or to transplant hair to areas of ongoing hair loss.
Corrective procedures
Another reason why somebody might want more than one transplant procedure is if they are unhappy with the results of the first. Unfortunately, at The Maitland Clinic, we do see patients who have had hair transplant procedures elsewhere but found the results unsatisfactory – often from low-cost operations in a country where there is less regulation of the hair restoration industry such as Turkey.
If you wish to discuss having corrective surgery for a previous hair transplant, our surgeon and medical director Dr Edward Ball will be able to examine you, identify how the current hair design can be improved, and provide a realistic idea of the kind of results you can expect.
Looking after your hair
Although hair transplants are permanent in the sense described above, if you are prone to hair loss then it is wise to look after your hair carefully. Taking hair loss medication (such as finasteride and/or minoxidil) can stabilise ongoing hair loss and help to reduce the need for further surgery.
At The Maitland Clinic, we provide all patients with advice – and if necessary medication – to help maintain the health of their hair as part of our ongoing aftercare service.
What you should look for in a consultation before deciding to have a hair transplant
Realistic, honest advice
FUE and FUT transplants are not suitable for everyone. Therefore you should make sure that you have a proper consultation and examination from your surgeon before undergoing any transplant procedure.
Remember that no treatment can guarantee a level of transplanted hair thickness that is inconsistent with the thickness and characteristics of your existing hair. A patient whose donor hair is very fine, straight or sparse will not be able to achieve the same results as someone with coarse, curly or dense donor hair.
Your surgeon should be very clear about this with you in your consultation, and give you realistic advice about the results you can expect to see.
Dr Ball has treated thousands of patients with exceptional results. But we will always advise against surgery if our hair transplant procedures are not likely to help a patient, usually because they do not have enough healthy hair to harvest.
Comprehensive aftercare
To ensure the best possible long-term results from our hair transplant surgery, the Maitland Clinic provides comprehensive aftercare to all its patients. We see our patients as lifelong beneficiaries of our hair care service. You'll be able to stay in contact with us for ongoing support and help on monitoring your hair growth progress, looking after your scalp, and preventing any potential problems.
You'll be able to return to us for check-ups and maintenance procedures, giving you a lifetime of professional hair care. Read about our aftercare service here.
To arrange a consultation please contact us, or call on 02392 706 122.