What is the average healing time for an FUT hair transplant? (Plus: what to expect in the recovery period)
3rd October 2018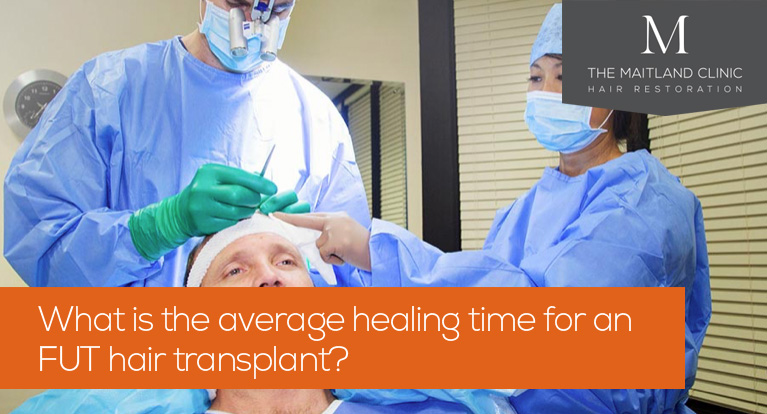 If you are considering Follicular Unit Transplant (FUT) hair restoration surgery then one of the questions you're likely to have is: what is the average healing time after the operation? At the Maitland Clinic we provide full information and a comprehensive aftercare service to ensure a timely recovery with minimum disruption to your life.
Your head should be healed and scab-free by day 10 after FUT hair transplant surgery. On average, the new hairs will begin to grow through in the treated areas of the scalp after four months, continuing to thicken over the first 10 to 15 months. Note that FUT surgery does leave a linear scar, which can require hair to be worn grade 4 or longer in order to conceal it.
The Follicular Unit Transplant technique (also known as 'strip' surgery) involves removing a thin strip of skin from the 'permanent' or 'donor' area of the scalp, where hairs are genetically programmed to continue growing for life. The healthy hair follicles are harvested from this piece of tissue using microscopes and they are then transplanted into the 'recipient' areas, where the patient has experienced hair loss.
FUT is a significant surgical operation that must be carried out by qualified medical professionals in a proper surgical environment. That means there is a recovery period and patients should expect some healing time before they are fully recovered, and before results begin to show.
The Maitland Clinic, led by Dr Edward Ball, provides a truly personal service, before, during and after your FUT operation. We'll give you full information about what you're likely to experience in the weeks, months and years after surgery, and we'll be with you on every step of your hair restoration journey.
FUT surgery, recovery and healing: a timeline
In surgery:
The FUT procedure starts with the removal of a strip of healthy hair-bearing skin from the donor area of scalp (typically the back of the head). The site of the donor strip is closed using small stitches and is covered up straight away by the surrounding hair.
Next, Dr Ball makes tiny incisions in the patient's recipient area. The hair grafts are then carefully placed into these recipient sites using very fine forceps or specialist implanter devices. The whole process can take between 4 and 12 hours depending on the size of the recipient area and the number of grafts that need to be transplanted.
You won't be able to touch your grafts for the first 5 days, but when you leave The Maitland Clinic after your FUT procedure we'll provide you with everything you need to take care of them, including instructions for washing your hair and state-of the-art Liposomal ATP aftercare sprays to optimise the grafts' healing and growth.
First few days:
Within a few days of FUT surgery you can expect to experience scabbing in the recipient area of the scalp and some swelling may occur on the forehead. You may also experience some discomfort in the donor area but this can be treated with ordinary painkillers and will soon ease off.
2-4 days:
Two to six days post-surgery you may notice some facial swelling, while the donor and recipient areas will start to crust. It is important not to touch your grafts until day 6.
5-9 days:
In this period you can usually wash and soak your hair to moisturise your head, with a view to being scab-free by day 10.
10-14 days:
After an average of 10 days your scalp should be free of scabs. This is the time we usually say that you can return to work.
The stitches from the donor area of your scalp are removed after 10-14 days and the donor area heals to form a linear scar (this is usually undetectable when covered by hair worn grade 4 or longer.)
14 days to 2 months:
In this period the new hair grafts are likely to shed'. This is nothing to worry about and is perfectly normal as your new grafted hair enters a resting phase.
2-4 months:
In this 'resting phase' you will look much as you did before the FUT operation, so patience is required!
4-10 months:
In this period your new hairs will start to grow. At first these may be very fine, but over time they will begin to thicken. You can treat these new hairs just like the rest of your hair – it is real, natural hair.
10-15 months:
Your hairs will thicken, mature and behave more like your original hair . This is the average time for a complete healing and the full final results of your FUT to be visible. You may even have had several haircuts by now!
At The Maitland Clinic we offer a complete aftercare service, including regular check-up appointments and consultations at key stages in the recovery process. We're always keen to hear how our patients are getting on in the months and years following their transplant.
Read more about FUT surgery on our website here. You can also view before and after pictures in our online gallery.
Healing time for an FUT hair transplant – more FAQs
Here are some more common questions about FUT transplants and healing:
Is an FUT transplant painful?
An FUE hair transplant can be undertaken with just a local anaesthetic, and at The Maitland Clinic we employ a number of techniques to minimise the discomfort of the local anaesthetic injections. These should make the transplant procedure pain-free. In fact, we make every effort to ensure the day of your procedure at The Maitland Clinic is more like a visit to a health spa than to a surgery – you can read, watch movies or play on an iPad during the process.
Any discomfort in the days following the procedure can be usually managed with ordinary painkillers.
What side-effects are possible with an FUT transplant?
There can be some minor side effects associated with an FUT hair transplant including bleeding, itching, swelling and bruising. However, with the right aftercare such irritations will not last more than a few weeks at most.
Don't forget that an FUT procedure will leave a linear scar. However, this will not usually be visible with a haircut of grade 4 or longer. Dr Ball has developed quite a reputation for neat stitching and fine scars.
Patients who wish to wear a haircut shorter than this may be better suited to an FUE (Follicular Unit Excision) transplant procedure, which does not leave a linear scar. Read about FUE here.
How do I know if FUT is the right hair transplant procedure for me?
Before you undergo any procedure Dr Edward Ball will conduct a full medical examination to determine that you are able to have an FUT transplant. Certain medical conditions such as bleeding disorders may preclude FUT.
Besides medical factors, there may be other reasons that mean Dr Ball will advise an alternative treatment, possibly including non-surgical options. Your age, the quality of your donor hair and considerations about future hair loss will all affect whether FUT is the best option for you.
At the consultation stage, The Maitland Clinic team talk to each patient and get a full overview of their medical and hair loss history to ensure the most suitable treatment is chosen.
At The Maitland Clinic we can give you practical, one-to-one advice about FUT and whether it is right for you. We'll talk you through the process and give you a realistic idea of the results you can expect to see from a hair transplant procedure.
To arrange a consultation please contact us, or call on 02392 706122.