FUT Hair Transplant Day by Day – Subscribe to Watch Our Patient's Video Diary #1
30th June 2017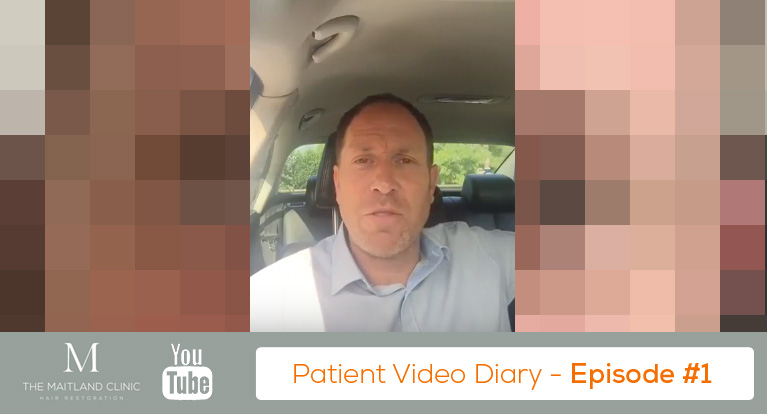 This week we are starting to publish a real-life patient diary of one of our patients who decided to have an FUT hair transplant at The Maitland Clinic. There are going to be multiple videos in the diary and review, with today being day one of his experience.
If you would like to be notified everytime that a new video in the series is released on our YouTube channel then please click here to subscribe. You can watch his FUT hair transplant day by day, detailing his experience from start to finish. The first video in the series can be seen below.
FUT Hair Growth Timeline – Up to 12 Months of Video
The videos will be recorded over a period of 12 months from the consultation period right up to the final results. In terms of the FUT hair transplant experience we believe it's the most comprehensive video diary that's ever been seen in the UK, so we hope you can subscribe and follow the journey from start through to finish.
Keep an eye on our blog or subscribe to our YouTube channel to be notified when the next video in the series is made live.
Watch Previous Episodes of the Video Diary
Video #1 (Current video) – https://www.youtube.com/watch?v=HZUUmtiHwXk
Blog #1 (Current blog) – https://www.themaitlandclinic.com/fut-hair-transplant-day-day-experience-video-01/
Video #2 – https://www.youtube.com/watch?v=_MjvKfCyzg8
Blog #2 – https://www.themaitlandclinic.com/fut-hair-transplant-procedure-booking-consultation-video-diary-2/
Video #3 – https://www.youtube.com/watch?v=JxxKsBD7WLA
Blog #3 – https://www.themaitlandclinic.com/fut-hair-transplant-patient-review-side-effects-propecia-video-diary-3/