What to look for in a hair transplant surgeon – Dr Ball's 7-point checklist
17th May 2019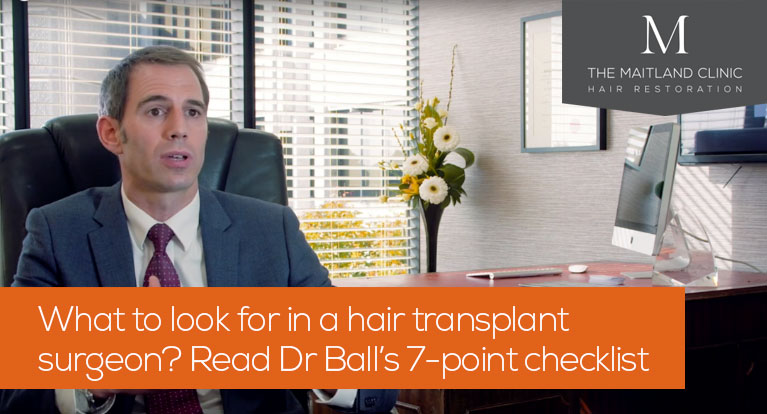 Dr Edward Ball explains the 7 key questions to ask if you're considering a hair transplant – as featured in GQ magazine…
Dr Edward Ball, Medical Director at The Maitland Clinic, recently featured in a GQ magazine article, giving no-nonsense advice to men considering hair transplant surgery.
The piece also included quotes from other reputable UK hair surgeons – and all emphasise one very important point: FUE and FUT hair transplant surgery is not suitable for everyone.
A good doctor will never rush you into surgery, but will talk you through all the pros and cons of a transplant with the long-term in mind. Indeed, you should be very wary of apparently low-cost providers who seem to be pushing a transplant as the preferred option. As GQ puts it:
"You should be looking for a doctor who is not desperate or keen to get you into the operating theatre.''
So what qualities should a good surgeon have?
In the article Dr Ball gives a 7-point checklist of things that prospective patients should look out for when visiting or talking to a transplant clinic. Here's an expanded version…
So what qualities should a good surgeon have? In the article Dr Ball gives a 7-point checklist of things that prospective patients should look out for when visiting or talking to a transplant clinic.
1. Who is doing the surgery?
Many clinics are fronted by a salesperson rather than a doctor.
That's not a problem in itself – surgeons  are often better suited to the operating theatre than to the front of house – but you should be very wary if the person you're talking is not able to actually name the doctor who will perform your transplant.
As Dr Ball says:
"That's an alarm bell, as they might be flying in an unlicensed, unaccountable doctor."
2. How many surgeries do you perform per day?
A successful hair transplant is one that works for the individual patient for the whole of their life.
To achieve that requires a mix of artistry and science as well as technical skill – and it also means the surgeon needs to take the time to get to know the patient and understand their scalp and how their hair grows.
That level of individual care is simply not possible at low-cost clinics that turn over multiple transplants every day.
Sadly, there are thousands of men out there with substandard results who regret undergoing a cheap transplant earlier in life.
At reputable clinics like The Maitland Clinic the focus is on quality over quantity.
As Dr Ball explains:
"If we do one surgery a day where the patient is the only focus, that's how you get the best results."
See also: Why are some hair transplants cheaper than others?
3. What parts of the procedure are done by the doctor?
Although nurses and technicians can carry out some elements of a transplant to a high professional standard, there are certain parts that should only be performed by a qualified doctor, such as the cutting of the skin, administering the anaesthetic, creating the hair recipient sites, extracting the donor hair and especially the planning of the hairline
"These can seem like simple things,"
says Dr Ball,
"But in reality you've got to be able to plan something that works for the rest of the patient's life."
4. Is the team performing the surgery the doctor's own trusted team, or are they drafted in?
To get consistently good results a surgical team should be experienced and trusted, each member familiar with the way the others work.
Over the years, a senior doctor will get to know exactly what he needs from assistants, technicians and nurses: Dr Ball has known and worked with his handpicked surgical team for years, making The Maitland Clinic's operating theatre a well-honed unit.
Cheaper clinics might draft in a team from various places according to demand.
As well as being unfamiliar with each others' methods, this makes the 'team' unaccountable for their results – a recipe for substandard work.
5. What are your qualifications?
The top rank of hair transplant doctors are properly qualified medical surgeons (Dr Ball is a member of the Royal College of Surgeons and worked for 10 years as a member of the skin cancer surgery team at University Hospital Southampton).
Unfortunately there are numerous transplant clinics where no such medical qualifications are held – and in some overseas countries the practice is very poorly regulated.
At a minimum you should check that your surgeon has a specific hair restoration qualification – for example from the British Society Of Hair Restoration Surgery or the International Alliance Of Hair Restoration Surgeons.
The highest standards are set in the US: Dr Ball is a diplomate and examiner for the American Board of Hair Restoration Surgery.
6. Can I see real-life examples of your work?
Most clinics promote themselves using Before and After photos. But you should be wary of images that seem too good or lacking detail.
"You may be shown a lot of pretty pictures that may be evidence taken from another company,"
explains Dr Ball.
"You want to see really detailed photos, not slightly out of focus, poorly lit images where you can't see the softness of the hairline or situations where they're wearing concealer or thickening products in their hair. You want a clinic to be demonstrating really honest photo or video evidence."
7. Can I hear from previous patients?
Reputable clinics will be able to provide testimonials – but even better for getting realistic, honest accounts of a hair restoration journey are the numerous Youtube vlogs, in which real patients record their experiences and results.  
A hair transplant is not just a quick fix to hair loss – it's a major decision and the results need to last your whole life.  It will not be the right solution for everyone. If you are considering hair surgery make sure you do your research. Look for a surgeon who takes the time to consider you as an individual, and will provide the right care and treatment for you over the long term.
If you would like a personal consultation with The Maitland Clinic about your hair loss, please contact us or call on 02392 706 122.