What happens at a hair transplant consultation?
7th November 2018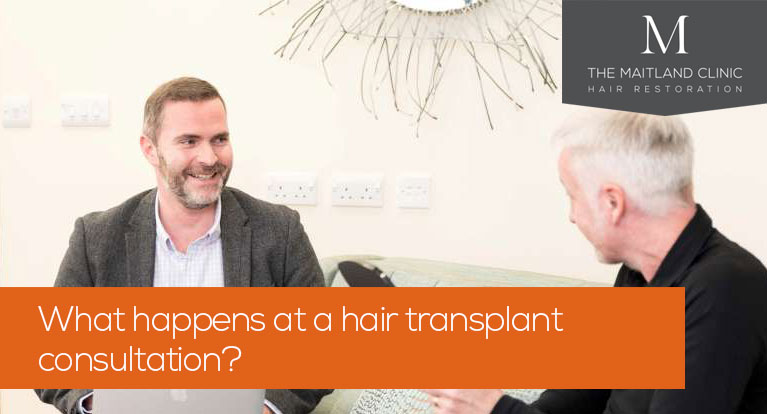 So you have made the decision to discuss your hair loss and have booked in to see us. What happens next? Have you ever wondered what happens at a hair transplant consultation?
Following your enquiry, you will be asked to complete a short confidential form and upload some photos. You will then be given the option to have an initial video call with David Anderson, our senior patient advisor, or a request free advice via email. Having spoken to David, you may wish to proceed with establishing a diagnosis and treatment plan through a face-to-face consultation with Dr Edward Ball. Dr Ball carries out consultations and hair restoration surgery at our Hampshire clinic, just outside Portsmouth.
Prior to your consultation, you will be asked to complete an online health questionnaire. This takes around 5-10 minutes to complete. The questionnaire is confidential and provides Dr Ball with essential information about your health and any medication that might affect your suitability for a surgical procedure. A paper version of this questionnaire can be sent to you by post if required.
Questions that we will wish to discuss during your consultation include:
Where are your areas of concern?
When did you first notice your hair loss?
Is your hair loss continuing?
Do you have a family history of hair loss?
What medication or treatments you are using now or have you used in the past?
Have you had a previous hair transplant? If so, when and how many grafts were used?
What are your expectations?
Video and email correspondence with David Anderson
During your video call or email correspondence with David Anderson (senior patient advisor), he will gather further information regarding your hair loss history and share general information about hair transplant principles, the techniques FUE and FUT  and non-surgical options for treating hair loss.
Some of our patients already have a wealth of knowledge, having been researching hair transplants for many years and possibly having had a previous procedure. We also see patients who have only recently considered hair transplant surgery and are looking to gain as much information as possible.
There is no such thing as a silly question and David is happy to answer all of your questions. David has had a number of hair restoration procedures himself including FUT, FUE and beard hair transplants. He has also been using Propecia (finasteride) for over 12 years and also had PRP treatments. You can read about David's most recent treatment at The Maitland Clinic in his blog.
Educating patients
David is well versed in explaining the differences between the two main hair restoration techniques and the general principles of the non-surgical options to retain and possibly thicken existing hair. Understanding these principles is the basis of finding the best solution for you as an individual.
At The Maitland Clinic, we don't recommend hair transplant surgery to those who would benefit from non-surgical options in the first instance. Often patients will leave having been told that surgery is not yet the best option for them.
With a limited donor supply, and in most cases progressive hair loss, it is much better to stop further loss than have many surgeries to chase your loss. It is important to know that a hair transplant is not a treatment for ongoing hair loss; your existing hair will still continue to thin so most of our patients who undergo hair transplant surgery will do so in combination with either Propecia (finasteride), Regaine (minoxidil), low-level laser therapy or PRP (platelet-rich plasma).
A very common point of discussion is the recovery period after surgery and how soon will someone be able to return to work. Most patients can return to work 10-14 days after surgery if they wish no one to know that anything has taken place as the following photos demonstrate.
Patient pre-op and 14 days post-op
Patient's donor area immediately post-op and after 10 days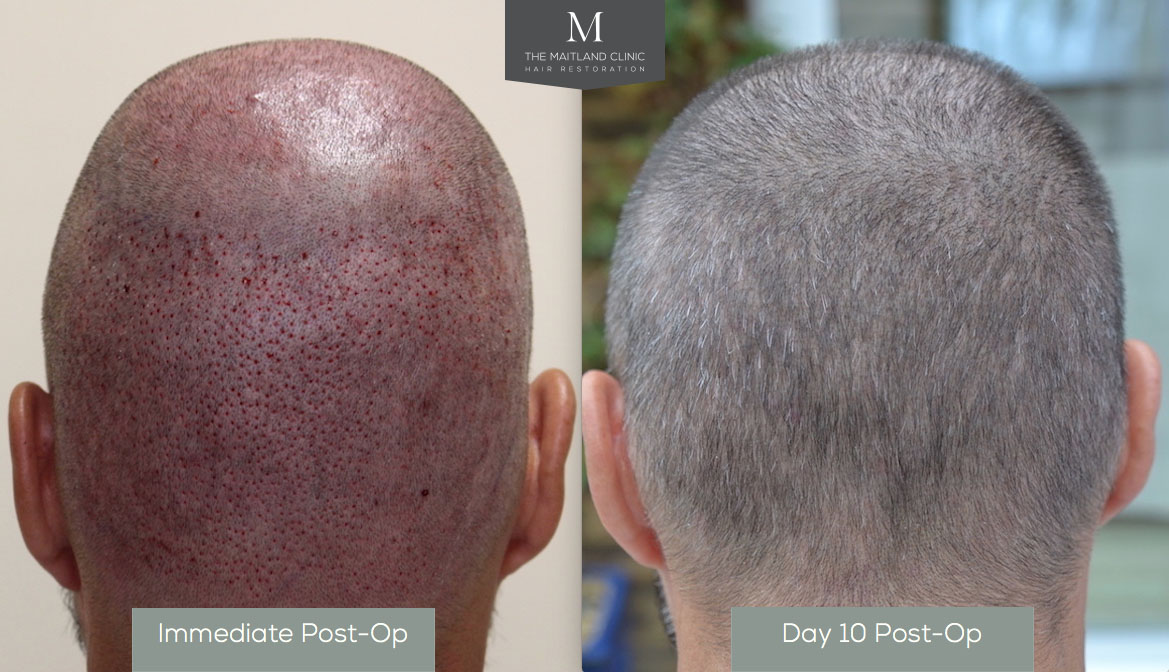 Patient blogs
It is important to know about timelines for growth and when the shedding of the newly transplanted hairs will take place. Patients usually experience shedding of most of the grafted hairs around 1-4 weeks post-op and it is usually 4-6months before the start of new hair growth is seen.
These patient blogs provide excellent documentation of the journey and timeline involved from day one of surgery to full growth 12 months later. These patients all had their hair transplants at The Maitland Clinic and you can learn all about their experiences in their YouTube video diaries.
FUE Vlog 1895 grafts
Sig G FUT Vlog 4000 grafts
ZayJay K FUT Vlog 3439 grafts
Aftercare
During your consultation, we will discuss aftercare and the importance of following the post-op instructions for the first few days after surgery. Dr Ball and our nurse, Karen Cobb, will go through your post-op instructions in detail before you leave the clinic. You will also have personal contact details for The Maitland Clinic team so that you can have all your questions answered during your recovery. We have produced clear written instructions for you to take home and a video which you can access through The Maitland Clinic YouTube channel.
To shave or not to shave?
Whether or not we will need to shave your hair for your procedure is best discussed during your video call and your subsequent medical consultation with Dr Ball. Many patients are concerned about the appearance of a fully shaved head on returning to work. Some patients opt to shave their head before surgery so people can get used to this new look. A charity head shave is a good idea if wanting to provide a viable excuse for this and raise money for a good cause. Shaving is not always required and will depend on your particular hair loss pattern and the surgical technique used.
Some patients undergoing hairline work require minimal shaving, just in the area where grafts are to be placed. This can allow patients to keep their hair long behind the treated area and wear it forwards to conceal where the treatment has been carried out.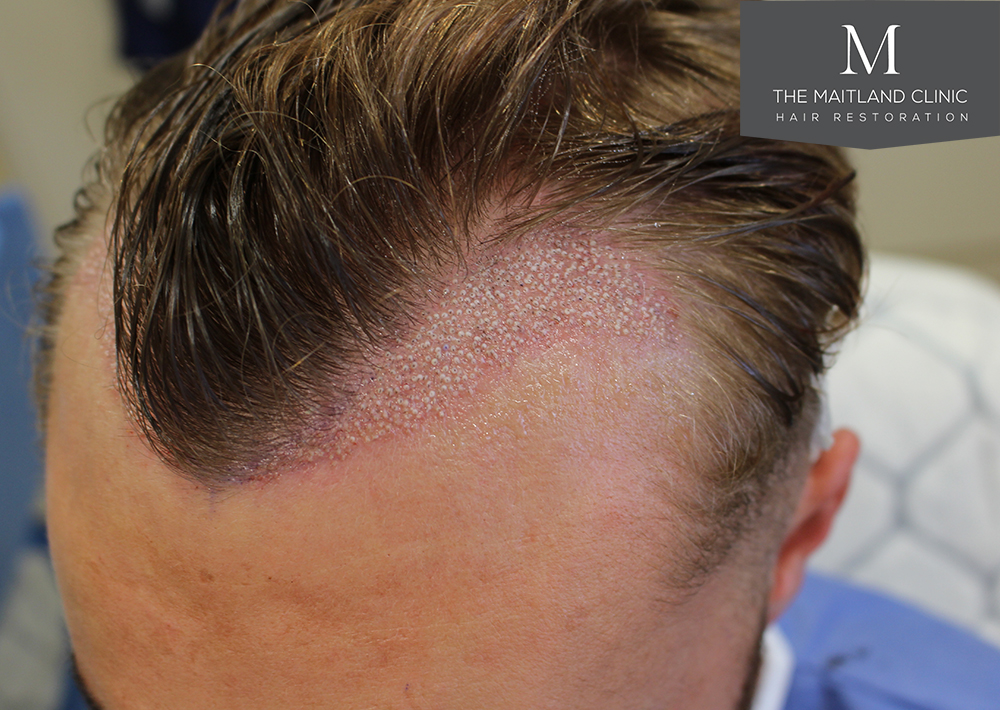 Medical consultation with Dr Edward Ball
During your face-to-face consultation with Dr Ball, he will undertake a thorough general medical and hair loss assessment in order to establish whether you might be medically fit for hair restoration, the diagnosis for your your hair loss and any suitable treatment options.
Dr Ball will take high magnification images of your donor hair to determine the following: scalp health, hair density, follicular groupings, hair calibre and characteristics.
Your areas of hair loss will also be assessed under high magnification in order to establish a diagnosis. Following this assessment, a treatment recommendation will be provided and, if surgery is considered appropriate, the number of grafts, technique, coverage, hairline position and cost will be discussed.
With your permission, confidential photographs will be taken to record the design and coverage of the proposed transplant area. These photos are also very helpful for patients moving forward with non-surgical options for a period of time so they can be referred to in the future to determine the response to these treatments.
Before proceeding with hair restoration surgery or platelet-rich plasma (PRP) treatment, Dr Ball will complete your medical assessment with an online psychological questionnaire which may be analysed by our psychology colleagues at Questa Psychological Services (with your consent). This enables Dr Ball to ensure that a proposed treatment is appropriate for you as an individual and allows us to review the impact of the medical or surgical treatment on your psychological wellbeing.
After the consultation
You will receive an email from David to summarise the discussion and provide details of any proposed treatment options. This email will be received 1-3 working days after your consultation. David is available by phone or email to answer any further questions that you may have.