The Maitland Clinic features in a new TV show – The Hair Loss Clinic – On TLC YouTube Channel, Quest Red and streaming on Discovery+
7th October 2021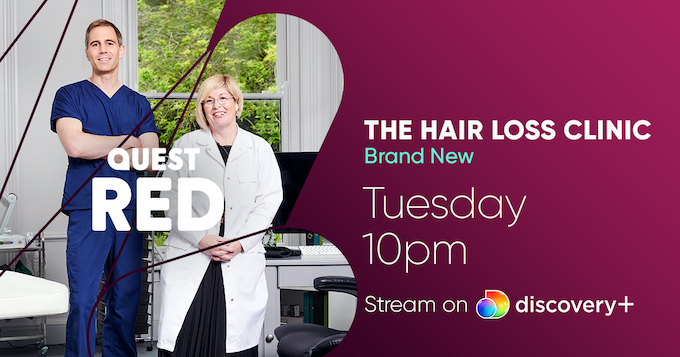 Dr Edward Maitland Ball and Eva Proudman MIT IAT feature in a new TV series filmed at The Maitland Clinic. The Hair Loss Clinic TV show focuses on the impact hair loss can have on men and women and the huge emotional and psychological benefits that can be experienced following hair loss treatment.
The Hair Loss Clinic TV series can be viewed on Amazon Prime, Discovery+ and for free on the TLC YouTube channel.
The Hair Loss Clinic follows the experiences of women and men suffering from different types of hair loss and scalp conditions. It takes a sensitive look at the emotional impact of hair loss, demonstrating how people can feel isolated, embarrassed and uncertain where to turn for help. We have opened the doors of The Maitland Clinic to show how hair loss sufferers can receive caring and empathetic help, with the very latest medical, surgical and trichological treatments.
The TV series was sensitively filmed and produced by Angel Eye Media for the Discovery Network.