Learn about scalp trichopigmentation (STP) & scalp micropigmentation (SMP) – by Janna Shafer
2nd June 2017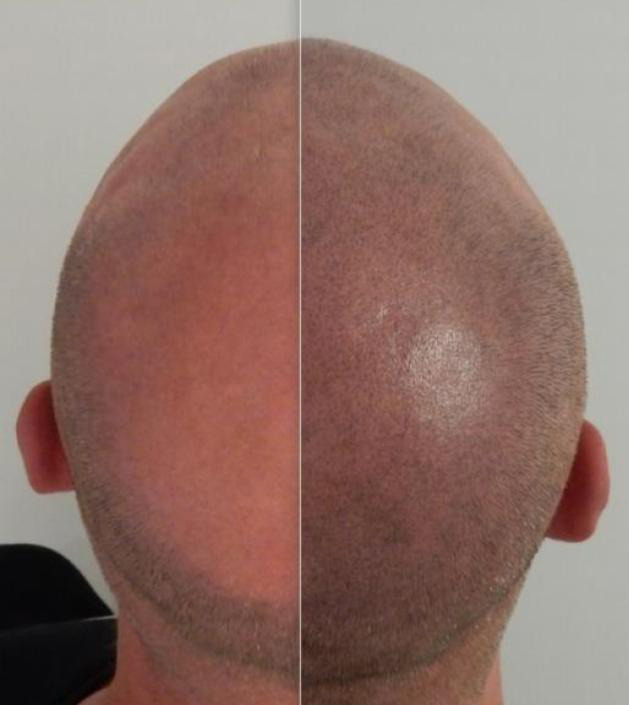 "Scalp micropigmentation" (SMP) is most commonly used term referring to the technique of cosmetically tattooing PERMANENT ink to the scalp.
The term "scalp trichopigmentation" (STP) is starting to take hold when referring to applying TEMPORARY ink to the scalp.
The two terms seem to be used interchangeably and quite often causes confusion. Generally, the term SMP covers both temporary and permanent ink treatments.
The art of tattooing ink to the body has been in practice for countless centuries, however, the art of tattooing micropigment dots to replicate hairs on the scalp is a recent phenomenon. Depending on your source, who actually invented the SMP treatment is up for debate. For STP, there's no denying that Melina Lardi of Beauty Medical in Italy popularised the temporary ink technique and patented a device through a company called Golden Eye who also distribute the inks and needles.
Just as you would research hair transplant clinics for surgery, you need to research SMP and STP clinics' technique and results as well. Creating a natural looking hairline through hair replication ink dots is almost as important as creating natural looking hairlines with HT procedures with real hairs.
Because SMP can use permanent ink and the needle goes in deeper, it's very important to get it done right. The SMP industry is not regulated, and new "experts" pop up daily, creating devastating results for unsuspecting patients. There are varying costs for each treatment from each clinic. Caution: don't let the price be your only factor in your clinic selection.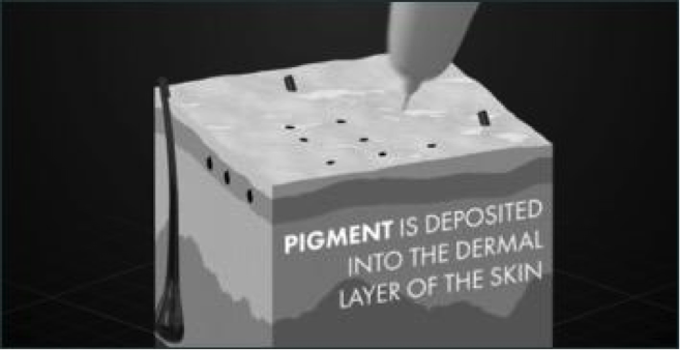 Permanent Ink – SMP
1mm depth into mid layer of dermis layer of the skin.
Available in black ink, 3 round needles that are finer than tattoo needles.
The average ink lifespan is 3-5 years.
Pigments are designed for the scalp but there's minimal regulation.
Main risks are of ink migration and ink turning blue.
If done incorrectly, the ink is removable by multiple laser treatments only
Temporary Ink – STP
0.5mm depth into upper dermis layer of the skin.
Pigment is designed for scalp work only.
Majority are single needle only except for when "thickening effect" 3-prong needles are used.
The organic inks are designed to last 6-24 months. They fade or get absorbed into the body completely within 6-24 months.
Inks are EU regulated and ingredients are known.
The drawback is that the treatments needs to be maintained yearly.
The pros and cons of SMP and STP
The pros of SMP and STP are similar
Instantly camouflages balding and thinning areas
They are non-surgical treatments
Desired look of density is achievable
Healing time – hours
Looks very natural if done correctly
Can be applied even if you have no hair at all
An additional pro to STP –  brown ink is available as well as black.
The con's of scalp micropigmentation (SMP)
Some pain with needle insertions
The ink can fade fairly quickly
Migration of dots ("blurring" of colour)
Black ink fading to blue/green.
Available only in Black Ink
Maintenance cost can be high
The con's of scalp trichopigmentation (STP)
Some pain with needle insertions
The ink can fade fairly quickly
Colour can change to grey if done incorrectly
Cost can add up due to bi-yearly or yearly maintenance
There are Three Main SMP/STP Treatments
Shaved Look
Thickening Effect
Scar Camouflage
Ideal candidates for SMP/STP are for men and women who have insufficient donor supply to achieve a good hair transplant result for the shaved look and thickening effect treatments.
Shaved Look
Pigments are placed into the scalp to mimic the look of a hair follicle that is breaking through the scalp. For those who do not have any hair in that area this allows them to get the look of a full head of hair with a shaved style. The negative aspect of this option is that you will have to shave every 2-3 days to maintain this look.

Thickening Effect
Pigments are place in between existing hairs to reduce the colour contrast between hair and skin on the scalp for a look of thicker and denser head of hair. This treatment works well for patients who would like to supplement their results of transplant surgery by adding the illusion of more density. It is helpful for patients who are in need of additional repair or camouflage from older hair transplant methods. Patients also benefit if they are tired of the inconvenience associated with maintaining topical camouflage products on a daily basis.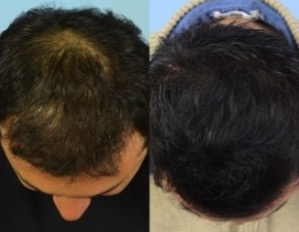 Scar Camouflage
Pigments are placed directly into scars to help reduce their visibility. The scarring can be from previous hair transplants or due to other injuries. Be aware that the scar tissue differs from normal skin tissue, therefore, a small test patch should be done to see if the ink spreads or the ink is rejected causing it to disappear swiftly.
For more information please contact The Maitland Clinic on 02392 706122 or complete our enquiries form.