Is an FUE Hair Transplant Painful?
5th April 2018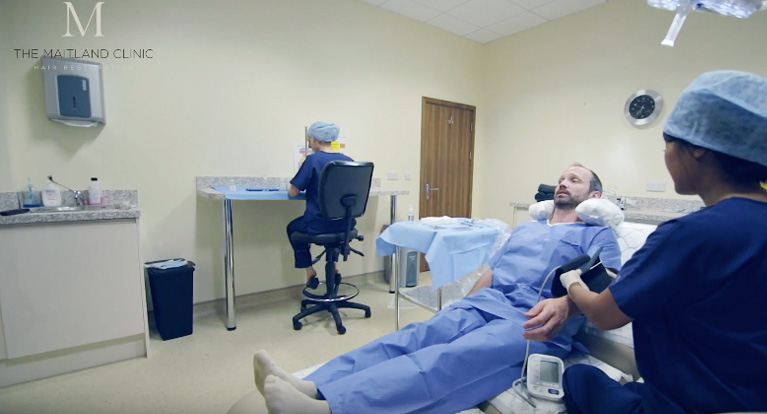 We're often asked by new patients how painful an FUE hair transplant will be.
During the FUE hair transplant procedure, most patients will not experience any pain at all. That's due to the numbing process that happens first, where we inject local anaesthetic into the areas of the scalp that we will be treating.
This local anaesthetic numbing process involves a series of injections using an extra fine needle, similar to that used when someone has Botox injections.
For a standard scalp hair transplant, the injections are placed across the front and back of the head, in order to numb the whole scalp.
In order to make the numbing process as comfortable as possible we apply a small vibrating massage device to the skin at the time of the injections. This sends distracting signals down the nerves and tends to significantly reduce any soreness from the needles.
The injections take just a few minutes to complete and then we wait another 5-20 minutes to be sure that the treatment area is totally numb. From that point on, the whole hair transplant procedure should be really comfortable.
Patients tend to feel contact but no pain during an FUE hair transplant. Our touch can be so light that most patients doze off for much of the day. When not sleeping, our patients chat, listen to the radio or choose a few films from our constantly updated collection.
If you do decide to choose The Maitland Clinic as your hair transplant clinic, you will see that we make every effort to make the day relaxing and comfortable as possible. We know that it can be quite a daunting process, but we consistently hear how our patients actually really enjoy their day with us.
After surgery we will also support you and your recovery as part of our patient aftercare service. You will be supplied with everything that you need to make the hair transplant recovery as pain-free as possible.
Although we supply painkiller tablets as standard, most patient find that they don't need them within a day or so of their FUE hair transplant.
Our team will regularly follow-up with you to check in and make sure that you are recovering well and are on the way to getting the results you anticipated.
For a real-life example, with comments from someone who has had FUE hair transplant surgery with The Maitland Clinic, please read this blog post. The interview is with our senior patient advisor, David Anderson, who has had an FUE hair transplant himself and so is expertly placed to answer any questions about pain and recovery.
How Painful is the FUE Hair Transplant Recovery Period?
Of course, undergoing an FUE hair transplant is not just about the day in the clinic itself. Once you leave the clinic, will you be in pain during the recovery process?
Whilst we cannot promise that you won't experience any pain at all, any discomfort that you feel would usually be minimal, and managed by simple painkillers and easy access to our team.
Discomfort usually only lasts for a few days, and you will be given medication and advice to help manage any pain you experience as well as products to help promote the healthy growth of your new hair.
We find that healing and recovery is accelerated by the use of our adenosine triphosphate (ATP) aftercare spray. It is a bit labour-intensive to spray the new grafts every 30 minutes during the day (and every 2 hours at night …sorry!) for the first couple of days. However, we have definitely seen fantastic healing and graft growth since introducing it to our aftercare regime a few years ago.
After around 6 days you will be able to touch your hair and start washing off any dry skin or scabs. Scabs should have cleared by around 10 days, although many of our patients look really clean and presentable by 6-8 days after their FUE hair transplant.
But this isn't where our care for you ends.
We can arrange follow-up visits to The Maitland Clinic, phone calls, email support, and a personal touch to ensure that you get the most effective after-care treatment possible.
Our priority is to ensure that you experience as little pain as possible after an FUE hair transplant, and we endeavour to manage that with the most professional and attentive care possible.
Book Your Consultation
If you would like to know more about how our hair transplant procedures could help you, or to explore any concerns you might have about whether the FUE hair transplant will be painful, then please contact us.
It would be a pleasure to talk things through over the phone and then book a consultation for you at our Portsmouth clinic.