Why should I have a hair transplant consultation directly with the Doctor?
31st October 2016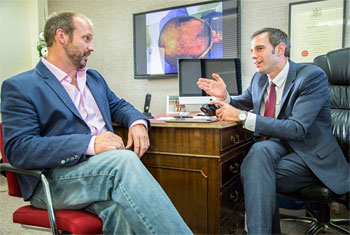 When considering hair transplant and hair restoration surgery you will often hear the words 'research, research, research' Why is this?
Even today some patients will choose price and convenience over quality of care and a proven track record by the surgeon carrying out their hair transplant procedure.
Here at The Maitland Clinic if you are considering hair transplant surgery your consultation will always be with Dr Edward Ball and myself.
What happens in a consultation with Dr Edward Ball at The Maitland Clinic?
By meeting the Doctor in person you can have a proper assessment of your hair and scalp. This will firstly determine if indeed you are a candidate for hair restoration surgery and that you scalp does not display any signs of infection or disorders that would make surgery challenging or impractical.
Dr Ball will check your hair for miniaturisation both in the donor and recipient sites and show you using our impressive Firefly software which magnifies the hair shafts and clearly shows an accurate picture of what is going on. With this you will be able to see for yourself your hair close up.
You will have your donor hair assessed for a possible procedure and information will be given on density, numbers of hair groupings and overall hair texture and quality.
Non surgical options such as Propecia, Regaine, Laser and PRP will be discussed as an alternative to surgery or in addition to maintain your native hair.
Your hair loss will be mapped out if possible so you understand where hairs in your scalp you will continue to thin unless action is taken to prevent this with the fore-mentioned non surgical options.
If the frontal area is going to be restored a proposed hairline will be drawn showing the position of the hairline and temples as well as how far back into the scalp new hairs will be placed. Dr Ball has a very good eye for how a natural hairline should look and taking into account your face shape and bone structure will design you a hairline and photos can be taken to capture the design.
Coverage will be established as to how much of the area can be treated in the first hair restoration session.
Advice as to which type of method would be best  for YOU. This would be either FUE or FUT and the pros and cons of each method discussed in detail.
How many grafts are possible to transplant in a first session and whether subsequent sessions are viable or will be required.
A clear understanding of what is possible in your case with either a FUE hair transplant or FUT hair transplant.
The graft count recommendation will also be able to determine the overall hair transplant cost.
To schedule a consultation in our Portsmouth locations please contact us here or you can email us enquiries@themaitlandclinic.com
Don't just take my word for it here is what some of our recent clients who attended a consultation had to say!
Hi David,
Thank you so much for giving me so much of your time, I came away from our meeting with a really positive feel.
I've given it so much thinking time, before and after our chat and would love to schedule a follow up chat to talk numbers and details.
Hi David, 
Thank you for the brilliant consultation on Wednesday – it was great to meet you and Dr Ball, I felt very reassured.