How many PRP treatments are needed for hair growth?
8th July 2019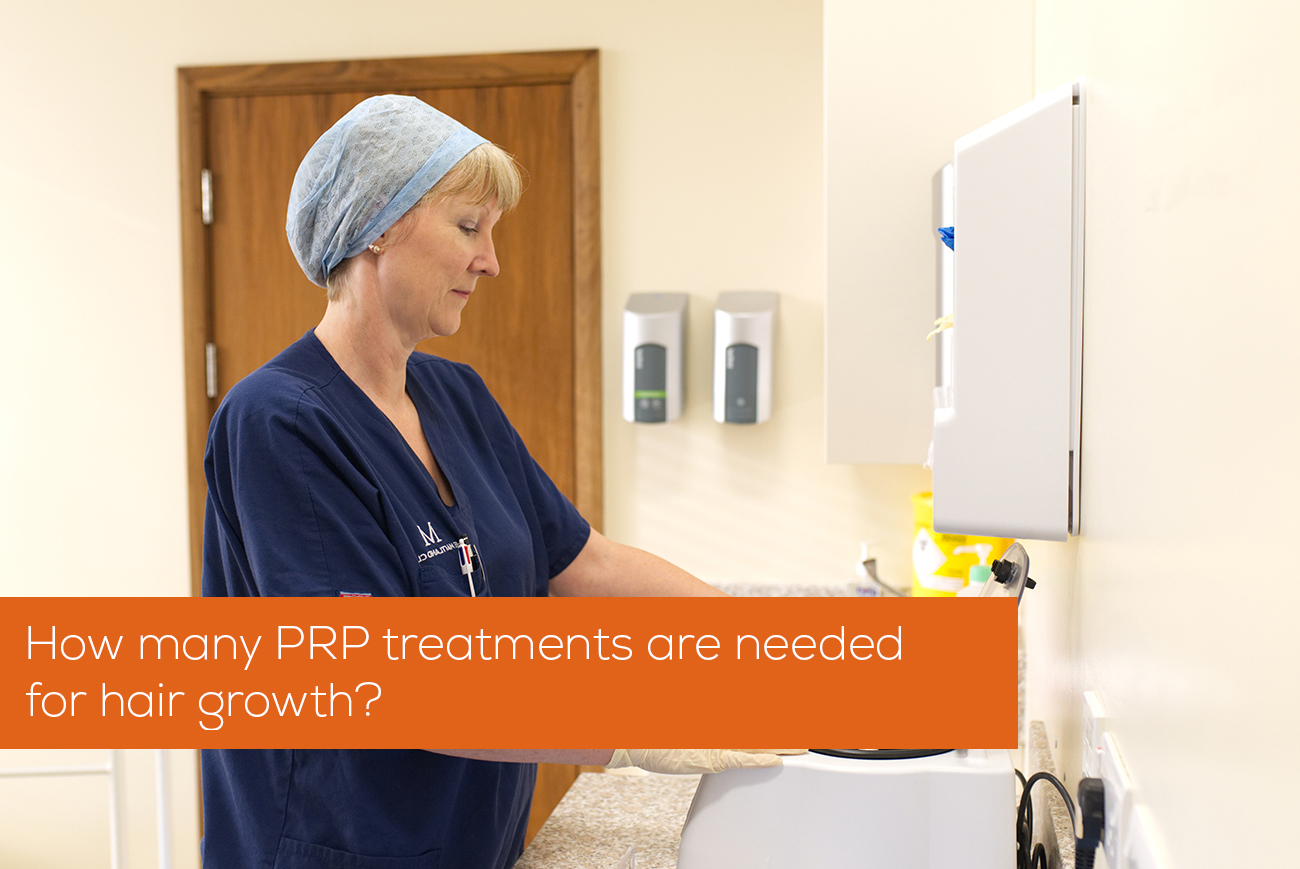 Platelet-Rich Plasma (PRP) hair loss therapy is a non-surgical treatment that involves injecting a patient's scalp with a concentrated solution derived from their own blood. There is growing evidence that this process can stimulate hair growth in many people, thus avoiding the need for a hair transplant in some cases and enhancing a hair transplant in others.
However, multiple PRP treatments are required to achieve optimum results. With PRP becoming an increasingly popular hair loss treatment at The Maitland Clinic, we are often asked:
How many PRP treatments are needed for hair growth? It is normally recommended that three PRP procedures are carried out as part of the initial treatment. These sessions usually take place at four to six-week intervals. After this initial round of treatment is completed, patients will require a single follow-up session every four to six months to maintain the positive effects of the treatment. 
How does PRP hair loss treatment work?
Plasma is the fluid component of the blood that contains red blood cells, white blood cells and platelets. Platelets aid clotting, scab formation and encourage your body to heal and repair itself. They are also known to release growth factors after injury to stimulate growth of specific tissues.
PRP treatment utilises this ability to heal and repair, meaning it is often referred to as a form of 'biotherapy'. The PRP technique has been widely used to treat joint conditions and rejuvenate facial skin, but more recently the process has been adapted to treat male and female hair loss.
PRP hair loss treatments at The Maitland Clinic are overseen by our in-house expert, Ms Karen Cobb RN. At the start of the treatment, Karen will draw a small amount of your blood using a butterfly needle, which is a lot less than the 470ml given when donating blood. The sample is then put into an automated centrifuge system to separate the platelet-rich plasma from the rest of the blood. For the treatment of hair loss, the isolated plasma solution should contain around four to five times the concentration of the normal platelet level.
Karen administers the PRP solution to the areas of the scalp affected by hair loss using a state-of-the-art mesotherapy injector device. The device delivers exact quantities of PRP, at a precise depth under the scalp and avoids the need for a local anaesthetic.
For the treatment to have the best chance of success, we recommend that PRP injections are administered over three sessions, four to six weeks apart. We suggest that patients then receive a single maintenance treatment every six to twelve months to maintain the benefits. You can find out more about PRP here.
How effective is PRP treatment?
It is important to be aware that PRP treatment for hair loss is relatively new and research surrounding this technique is still ongoing. However, initial studies have been positive, with many of the world's leading experts on hair transplants reporting excellent results.
The Maitland Clinic is proud to be at the forefront of the latest innovations in hair restoration, and since offering the treatment ourselves, we have seen very good results. The patient pictured below shows his before and after results three and a half months after receiving PRP treatment into the crown and mid scalp: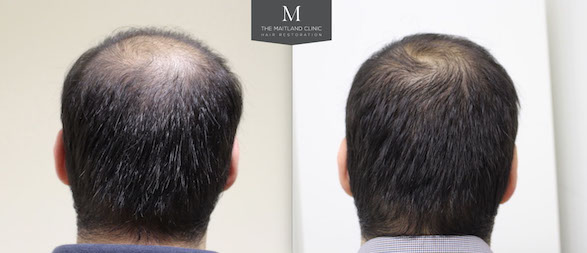 It is important to note that success rates can vary amongst patients and it is still not clear why PRP hair loss treatment works better for some people and not so well others. We do know that PRP treatment is more likely to encourage hair growth in areas of the scalp where there is still a lot of miniaturised hair. It is unlikely to produce positive results when carried out on patches of the scalp that are already completely bald.
The Maitland Clinic can advise on whether you are likely to be a suitable candidate for PRP treatment and, unlike many other clinics, our experts will only recommend this form of treatment if we believe there is a realistic chance of success.
Is PRP hair loss treatment a permanent solution?
As we have noted above, PRP treatment requires maintenance sessions every six to twelve months to continue producing positive results. Although PRP treatment has been shown to encourage hair growth and thicken hair in areas that have been treated, it will not prevent new bald areas from forming in untreated areas of the scalp. Response to PRP will differ between patients and it is not known how long the benefits will persist.
Are there any side effects of PRP hair loss treatment
At The Maitland Clinic, we use the highly respected Cellenis PRP system which is an approved medical device by the European (CE Class IIb) and USA (FDA) Regulatory Authorities.
As PRP treatment uses your own blood, there are minimal concerns for safety and no significant side effects have so far been reported. Some patients do experience discomfort in the immediate aftermath of the procedure, although most people do not report suffering any pain. It is possible that the procedure may cause some swelling and tenderness of the scalp and forehead, but this should subside within three to five days.
How much does PRP treatment cost?
PRP hair loss treatment at The Maitland Clinic starts at costs £395 for one zone (either the crown region or the frontal half of the scalp) and £495 for two zones (the whole top of the scalp). We also offer package prices for the initial course of three treatments. Our pricing reflects the quality of the process and leading technology used by our experts, along with our superior levels of patient care.
At The Maitland Clinic, we understand that hair restoration is an ongoing process. That's why, in addition to offering regular PRP maintenance treatments, we go the extra mile to provide individual support and monitoring to our patients throughout their lifetime.
More information on PRP hair loss treatments at The Maitland Clinic is available on our website. To discuss your needs or to arrange a consultation, please call us on 02392 706 122.