How long does a hair transplant last?
10th February 2020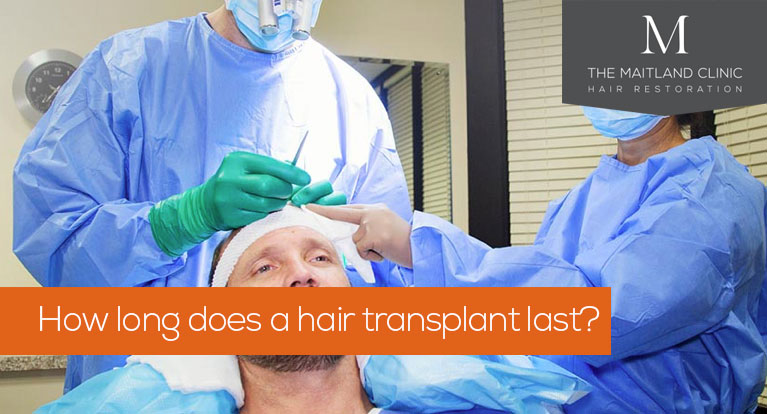 A hair transplant is a big step and a significant investment, so it's natural to want to know whether your surgery will provide a permanent solution to your hair loss. At The Maitland Clinic, we are often asked: "how long does a hair transplant last?" This post outlines what to expect following hair restoration surgery and consider the likely lifespan of your treatment.
How long does a hair transplant last? In theory, a hair transplant can last a lifetime because the hair follicles harvested for the procedure are genetically programmed to keep growing. However, a patient's age, lifestyle, hair type and extent of hair loss can all affect the lifespan of a hair transplant. In some cases, individuals may require more than one procedure to maintain their desired results.
Before we consider this in more detail, it's important to understand how the procedure works and what's involved.
What happens during a hair transplant?
At The Maitland Clinic, we use two main methods of transplanting hair – Follicular Unit Transplant/strip (FUT) and Follicular Unit Excision/Extraction (FUE). The two procedures use different techniques to harvest the hair grafts, but both are capable of producing great results.
During the FUT process, the surgeon removes a healthy strip of hair-bearing skin from the donor, most commonly from the back of their head. The strip is then divided into tiny grafts of individual follicular units comprised of one to four hairs.
The FUE technique, however, uses the latest technology to extract individual follicular units directly from the scalp using a 0.8mm to 1mm 'punch' device. This punch device can be manual, hand-held motorised or robotic, depending on the surgeon's preference.
Once the grafts have been harvested, whether via FUT or FUE, our renowned surgeon, Dr Edward Ball, implants them into tiny incisions in the balding areas of the scalp. This process is undertaken with great care, precision and artistry to create a natural look that blends seamlessly with the patient's native hair.
The FUT technique leaves a linear scar, whereas FUE leaves a series of small dot scars in the donor area, although these are barely noticeable to the naked eye. You can expect your head to be free of scabs ten days after your surgery.
Both FUT and FUE can achieve excellent results, but each method has its pros and cons. The best option will depend on the extent and characteristics of the hair loss, the quality and quantity of donor hair, as well as the final look you are hoping to achieve. During the consultation period, Dr Ball will discuss the various options with you to help you decide which, if any, is the most suitable.
You can read more about FUT and FUE on our website.
Hair growth: what to expect after FUT or FUE surgery
In the first four months following a hair transplant, you may find that some of the newly implanted hairs begin to 'shed'. This is perfectly normal during the initial 'resting phase' and is not a sign that the transplant hasn't worked.
Most of our patients see the majority of new hair growth between five and twelve months after their surgery, with the full results usually visible by fifteen months. At this point, your newly grafted hair should look and behave much like your natural hair.
You can read more about hair growth after a hair transplant in our blog post "How long does a hair transplant take to grow?"
Will a hair transplant last forever?
When considering hair restoration treatment, you may be wondering, "how long does an FUT transplant last?", or "is an FUE transplant permanent?"… Dr Ball will be happy to answer such questions for you in more detail, but this post provides a basic overview of the facts.
During a hair transplant, grafts are taken from an area of the head where they're genetically programmed to keep growing. Even after they're implanted into the balding areas of the scalp, the transplanted hair follicles retain the characteristics of their origin and continue to grow for life. This means that with the right surgeon and proper aftercare, an FUT or FUE hair transplant can last a lifetime.
However, it's important to understand that everyone is different and no treatment can guarantee a level of transplanted hair thickness that is inconsistent with the characteristics, thickness and lifespan of a patient's natural hair.
While FUT and FUE hair transplants can provide a permanent solution to hair loss, it's not unusual for patients to undergo more than one procedure during their hair restoration journey. However, one of the major challenges is that there is a limited supply of donor hair at the back and sides of one's head, so it is rarely possible to replace all the hair that is lost in a lifetime.
Will I need more than one hair transplant?
Planning and performing a successful hair transplant can be challenging because hair loss is often a progressive process. This means that while transplanted hair may be permanent, the patient's original native hair may continue to thin.
As a result, it's sometimes necessary for patients to undergo more than one hair transplant during their lifetime. This might be to add density to a previously transplanted area, address a new area of baldness or transplant hair to areas of ongoing hair loss.
Following hair restoration surgery, many of our patients take hair loss medication such as finasteride and/or minoxidil to help stabilise ongoing hair loss and minimise the need for further surgery.
Rest assured that these issues will be discussed with you during the consultation process, so you will be fully informed before committing to any surgical procedure.
Corrective surgery at The Maitland Clinic
We are often asked to perform corrective surgery by patients who have previously received hair restoration treatment elsewhere and, unfortunately, found the results to be disappointing or unnatural.
There are several reasons why this might be the case. An individual may, for example, have undergone a procedure that is now out of date, such as hair plugs. Others may have been let down by what seemed like an attractive low-cost option, perhaps in a country where there is less regulation of the hair restoration industry.
If you are considering corrective surgery, Dr Ball will be able to examine you and identify how the current hair design can be improved or corrected. He will also provide you with a realistic idea of the kind of result you can expect to see.
You can read more about corrective procedures on our website.
What can affect the results of a hair transplant?
As one of the world's top surgeons for hair restoration, Dr Ball has an excellent reputation for delivering successful FUT and FUE hair transplants. However, every patient is unique and the final results will depend on a variety of factors, including:
Characteristics of the hair – curly, coarse hair will appear thicker than fine, straight hair
The severity of the hair loss – this will affect the ratio of the donor area to the recipient area
The density of the donor area – there will be a greater supply of follicular units in patients with dense hair in the donor area
Donor follicular unit groupings – the hair of a donor with a plentiful supply of three and four hair follicular units will appear 'thicker' when compared with that of a donor with mostly one and two hair follicular units
The size of the patient's head – the surgeon will be able to harvest more grafts in patients with a larger head circumference
The contrast between hair and skin colour – hair will inevitably look thinner if the patient has pale skin and dark hair because more skin will be visible through the hair
Skin laxity – the laxity of a patient's skin will affect the amount of tissue that can be extracted in an FUT strip.
FUT and FUE transplants are not suitable for everyone so it's important to have a proper examination before undergoing any form of hair restoration surgery.
Unlike some clinics, we will always be honest and realistic about the results you can expect to see after your surgery. We will only recommend a procedure if it is truly the right step for you and we believe there is a high chance of securing a positive outcome.
You can view some of our success stories in our gallery.
Exceptional aftercare at The Maitland Clinic
To ensure the best possible long-term results, we provide comprehensive aftercare to all of our patients.
When you leave the clinic after your treatment, we'll provide you with everything you need to take care of your grafts during the first few weeks. This includes instructions for hair washing and any medication that may be necessary to manage any initial discomfort. We also provide you with state-of-the-art Liposomal ATP aftercare sprays which promote the healing and growth of your new hair grafts.
However, our support does not end once the grafts are secure and your scalp has healed. The Maitland Clinic's 'open-door' policy ensures patients have access to a lifetime of professional hair care. This means you're welcome to return to us at any point, whether it's for further check-ups and procedures, or simply for ongoing support and advice to help you care for your hair and prevent potential problems.
If you are considering a hair transplant, our experienced team can talk through the options with you to determine the best course of treatment. To arrange a consultation please call us on 02392 706 122 or email us at enquiries@themaitlandclinic.com.