Help Hair® vitamin supplements for hair growth: a guide for patients
14th February 2023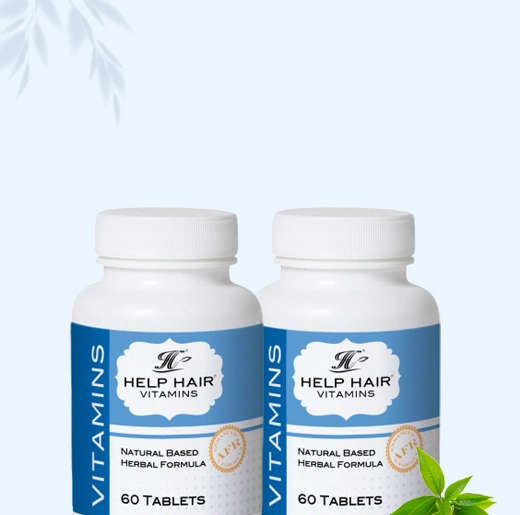 Help Hair® vitamins provide a combination of minerals and B-supplements that are designed to support healthy hair growth. They can be taken alone or, for best results, as part of a multi-pronged hair treatment plan.  Here is a comprehensive, expert guide to Help Hair® vitamin supplements.
By Dr Edward Maitland Ball
There are many different hair vitamin supplements on the market that purport to improve hair growth, strength and shine. While this may sound appealing, especially to anyone suffering from hair loss, there is actually not a huge amount of real scientific evidence to support most claims. 
That being said, it is likely that high-quality supplements from reputable brands like Help Hair® can play a role in supporting healthy hair growth when combined with other forms of hair loss treatments.
Before taking any kind of hair loss medication or vitamin supplement, it's important to understand the pros and cons, the potential side effects and the likelihood of success. Read on to learn more about hair vitamins and discover whether Help Hair® supplements might be a suitable option for you. As always, we would recommend speaking to a qualified professional about your particular circumstances before embarking on any new kind of hair loss treatment.
Do hair supplements really work?
There's limited clinical data to suggest that hair vitamin supplements can actually reduce hair loss or improve hair growth. However, many experts agree that certain nutrients like biotin and vitamin B12 contribute to healthy hair, and patients who are deficient in these often report a range of hair-related problems. 
For example, in one study¹ researchers analysed the serum biotin levels in 541 women participants who were experiencing hair shedding. Low biotin levels (\100 ng/L) were found in 38% of these subjects. A separate study in 2013² revealed that women with hair loss had significantly lower iron levels than women with no hair loss, while a review article³ on zinc in patients with alopecia areata found low zinc levels were reported in four out of six case-control studies. One of these case-control studies also examined patients with male-pattern hair loss, female-pattern hair loss, and telogen effluvium. The results of this study⁴ showed a strong correlation between zinc deficiency (<70 lg/dL) and hair loss.
Although there's little scientific evidence to prove that adding these nutrients to hair supplements will improve hair growth or hair quality across the board, it may have a positive effect on anyone who is experiencing hair issues that are linked to a nutrient deficiency. 
Hair supplements may also be helpful if you want to improve your nutritional intake before or after a hair transplant procedure to optimise the results.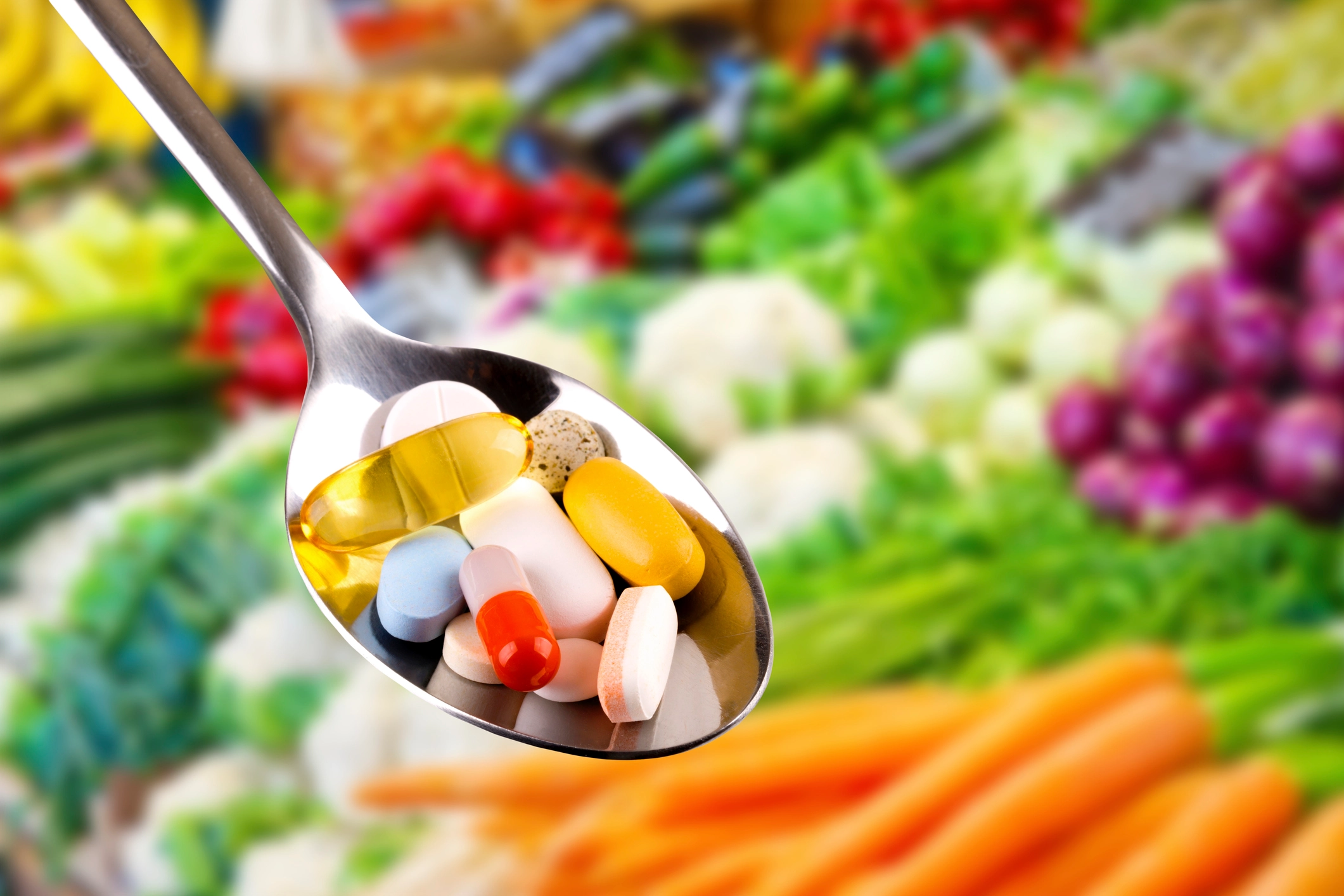 How do Help Hair® vitamins support hair growth?
Help Hair® vitamins contain the maximum amount per serving of essential minerals and B- supplements that have been linked to better hair health. This includes biotin, niacin and vitamins B12 and B5, as well as zinc and iodine. Although it cannot be guaranteed that they will minimise hair loss or solve common hair problems, they do provide the nutrients your body needs to support healthy follicles and hair growth.
For this reason, many of our patients take Help Hair® vitamin supplements when growing their hair back after it has been shaved for an FUE hair transplant. Others choose to take them to optimise their nutritional intake and boost their hair health over the longer term. Alongside the potential benefits for hair growth, many people also report improvements to their skin and nails.
What do Help Hair® vitamins contain – and are they safe?
Help Hair® vitamins contain a specially-formulated blend of minerals and supplements that may promote strong, healthy hair. Each serving (two tablets) contains the following ingredients:
Niacin (40mg)

Vitamin B12 as cyanocobalamine (6mg)

Vitamin B5 (9mg)

Manganese as gluconate (3mg)

Folic acid (400mcg)

D-Biotin (5mg)

Zinc as oxide (20mg)

Iodine as potassium iodide (100mcg)

Chlorophyll (30g)

PABA (30mg).
Other ingredients include whey, dicalcium phosphate, magnesium stearate and silicon dioxide.
Help Hair® vitamin supplements are generally very safe, although they may not be suitable for certain groups of people (more on this below). It's also important to note that you must not exceed 5mg per day of biotin.
Who are Help Hair® vitamins suitable for – and who should avoid them?
Help Hair® supplements can be taken by both men and women who want to optimise their nutritional intake and support healthy hair growth. However, you should avoid taking Help Hair® vitamins if you:
are pregnant

are allergic to iodine

take sulfonamides

are allergic to milk

are lactating 

drink excessive alcohol

have liver disease

or are on blood thinning medication.  
Always read the warning label and consult an expert if you're unsure whether it's safe for you to take.
How often should I take Help Hair® vitamins?
You should take one or two tablets daily with food. It usually takes around 30 days for the supplements to build up in your system and reach the maximum results.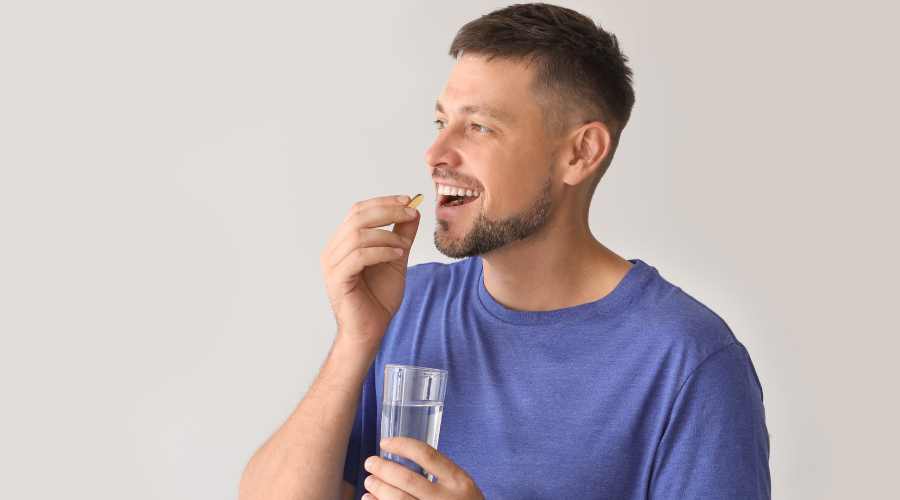 Why choose Help Hair® vitamins?
Unlike some other brands of hair vitamins, Help Hair® supplements are made with high-quality ingredients to help achieve the best possible results. The herbal-based formula is free from artificial colours, flavours and preservatives, making it an ideal option for anyone looking for a natural way to supplement their nutrition and support hair growth. Help Hair® vitamin supplements are also vegetarian-friendly and non-GMO. 
Can Help Hair® vitamins be taken in conjunction with other hair treatments?
Yes, Help Hair® vitamins can be taken in conjunction with other hair loss treatments, including topical medications like minoxidil and finasteride. In fact, we actively encourage our patients to take a multipronged approach to their hair care treatment plan. That's because hair loss can have multiple causes and a single approach or single treatment is unlikely to address all the various pathways that contribute to the condition.
So, while hair supplements don't provide a miracle cure for hair loss, they can have a place in a wider hair care plan that might include medication, surgery, topical treatments and shampoos, laser therapy, and dietary and lifestyle changes. 
Taking Help Hair® vitamins can be a good way to boost your nutritional intake and support hair growth. However, it's important to be realistic about the results. There's limited scientific evidence to suggest that hair supplements can substantially increase hair growth or prevent hair loss, but many of our patients do notice faster growth when taking hair vitamins in combination with other treatments. 
If you do intend to start taking Help Hair®, we recommend that you speak to a medical professional beforehand, especially if you are on other medications. And of course, always read the instructions and information on the label.
How can I buy Help Hair vitamins?
Help Hair vitamins can be purchased through The Maitland Clinic for £25 per pack of 60 tablets (one month supply). Please contact Lana at reception@themaitlandclinic.com or on 02393 706122 to place your order.
Dr Edward Maitland Ball is a member of the Royal College of Surgeons, a diplomate of the American Board of Hair Restoration Surgeons and a Fellow of the International Society of Hair Restoration Surgery. He is the founder and medical director of The Maitland Clinic.
References
Trueb RM. Serum biotin levels in women complaining of hair loss. Int J Trichol. 2016;8(2):73–7.

2. J Korean Med Sci. 2013 Jun; 28(6): 934–938. Iron Plays a Certain Role in Patterned Hair Loss.

https://www.ncbi.nlm.nih.gov/pmc/articles/PMC3678013/

Thompson JM, Mirza MA, Park MK, Qureshi AA, Cho E. The role of micronutrients in alopecia

areata: a review. Am J Clin Dermatol. 2017;18(5):663–79.

Kil MS, Kim CW, Kim SS. Analysis of serum zinc and copper concentrations in hair loss. Ann Dermatol. 2013;25(4):405–9.
Source:
Dermatol Ther (Heidelb) (2019) 9:51–70 https://doi.org/10.1007/s13555-018-0278-6. The Role of Vitamins and Minerals in Hair Loss: A Review. Hind M. Almohanna . Azhar A. Ahmed . John P. Tsatalis. Antonella Tosti.