I went out in the sun after a hair transplant (how long + sun exposure)
28th October 2020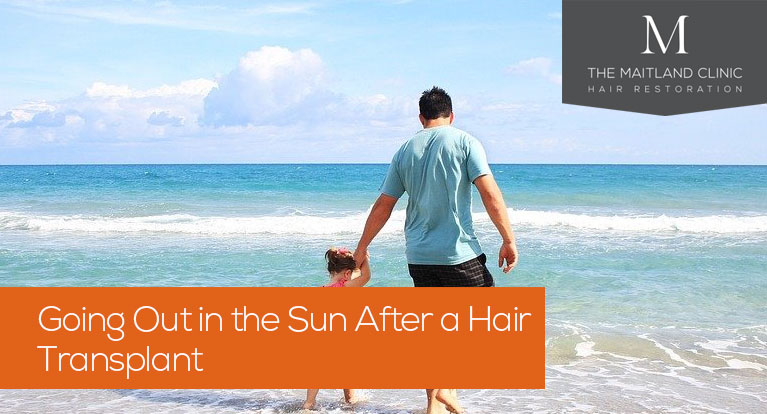 Undergoing a hair transplant is a big step and you will naturally want to do everything you can to make it a success. This usually means making a few changes during the postoperative period, such as limiting sun exposure after a hair transplant. This post contains basic advice about how long to avoid the sun after a hair transplant, but the team at The Maitland Clinic will be happy to answer any questions you may have in more detail.
It's important to take extra care when going out in the sun after a hair transplant for the first few months. The scalp is more sensitive after hair restoration surgery and any hair transplant sun exposure or damage to the treated area may prolong your recovery and jeopardise the results. When you do go out into the sun, you should wear a hat or apply a high factor sunblock.
How does sun exposure affect a hair transplant?
Both Follicular Unit Excision (FUE) and Follicular Unit Transplant (FUT or Strip) hair transplants involve taking healthy hair follicles from a donor area of the scalp and transplanting them to the areas affected by hair loss. Tiny incisions are made in the recipient area of the scalp, and the hair grafts are placed into these sites.
During this process, some of the cells which darken the skin to protect it from the sun become dormant or die. Although these cells, known as melanocytes, will regenerate after a few months, until they do the scalp is more vulnerable to the sun's ultraviolet rays. Sun exposure to the treated area during the healing period can damage the skin and prolong the healing process. It can even result in more noticeable scarring in some instances, meaning you should avoid sunburn after a hair transplant at all costs.
I went out in the sun after a hair transplant, will I be ok?
As well as damaging the scalp, exposure to the sun after a hair transplant can also damage the hair follicles themselves. Hair transplant surgery involves multiple layers of the skin and while the surface layer (the epidermis) usually heals quite quickly, the deeper tissues can take much longer to repair themselves. Sun damage to the treated area can penetrate the epidermis and harm the hair follicles and underlying tissues. This means the transplanted grafts may be unable to take root properly, hampering new hair growth and jeopardising the success of the whole procedure.
When can you go in the sun after a hair transplant can you go in the sun?
At The Maitland Clinic, we usually advise patients to avoid exposing the treated areas to the sun for at least three months after surgery. As we've already discussed, sun damage can negatively affect the result so you must follow the postoperative guidelines set out by our surgical team.
However, this doesn't mean that you will need to remain indoors at all times – we simply ask that you take adequate precautions to protect the scalp if you are going to be out in the sun for more than five minutes.
Protecting your scalp from the sun after a hair transplant
These simple tips will help to protect your scalp from the sun following an FUT or FUE hair transplant, maximising your chances of achieving great, natural-looking results:
Wear a hat – Wearing a hat or other form of head covering is a great way to protect your scalp from the sun during the first few months after surgery. We recommend waiting until the sixth postoperative day to wear a hat, but if you do wear a hat during the first five days it will need to be loose-fitting and as wide as possible around your head. This minimises the risk of the grafts becoming dislodged or damaged and suffering with sunburn after a hair transplant. You can read more about wearing a hat after a hair transplant in our blog post: Can you wear a hat after a hair transplant and how long after the procedure?
Apply sunscreen after a hair transplant – Applying a high protection sunscreen after a hair transplant (at least factor 30) will provide protection against the sun's harmful UV rays, although we recommend that you wait until all of the incisions are healed, ideally 2 weeks after surgery. Sprayable sunscreens are preferable as they minimise contact with the fragile new hair grafts. If you have any questions or concerns about applying sun cream after a hair transplant then do contact us and we will be happy to advise you.
Avoid the sun at peak times – In addition to the above measures, if possible, you should avoid being out in the sun for prolonged periods during the peak hours of 11 am – 3 pm. This reduces the risk of sustaining sun damage in the treated areas, which is particularly important during the first three months after a hair transplant.
Please contact The Maitland Clinic if you would like further advice on caring for your scalp or grafts following a hair transplant.
Hair transplants at The Maitland Clinic
The Maitland Clinic has an excellent record of performing successful FUT and FUE hair transplants. Our leading surgeon, Dr Edward Ball, is an expert in hair restoration. His technical skill, experience and artistry mean he can create a perfectly natural look that blends seamlessly with the rest of your hair. You can view some of our results in our online gallery.
As part of our commitment to our patients, we also provide a comprehensive aftercare service. Following your treatment, you will be given detailed instructions on how to care for your scalp and grafts, as well as advice about going out into the sun and resuming your normal activities.
But our support stretches far beyond the initial recovery period – we see our patients as lifelong beneficiaries of our haircare services. You're welcome to return to us for support and advice at any point, whether it's months or even years after your treatment. You can read more about our aftercare service here.
To arrange a consultation please call us on 02392 706 122 or email us at enquiries@themaitlandclinic.com.