FUT (Strip) Donor Scar- How Does It Look When Healed?
16th November 2016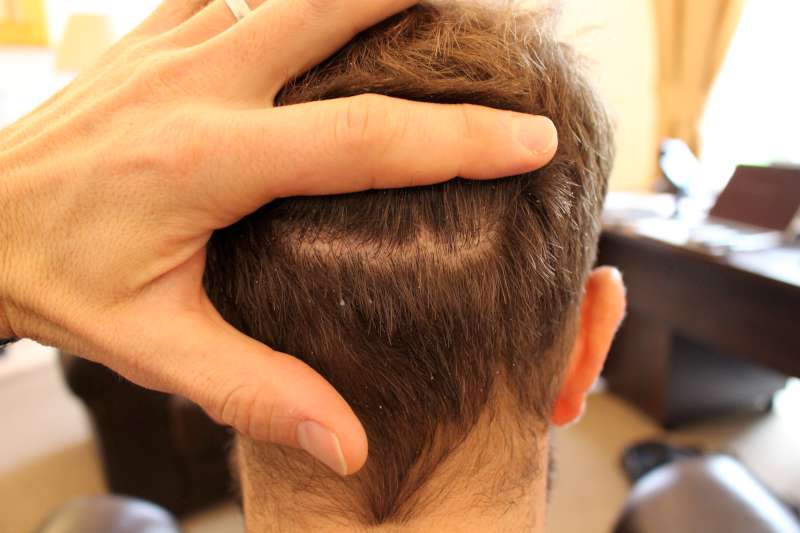 The donor scar that a FUT surgery creates is the single biggest factor in why many patients choose FUE as a preferred method when deciding on hair transplant surgery.
"How wide will the scar be?"
"How long is the scar?"
"How short can I wear my hair short after surgery?"
The above 3 questions are the most common that I get asked in my hair transplant consultations at either our Portsmouth or Harley Street, London locations.
We have all seen the horrific images online of poor healed scars from FUT/Strip surgery. A simple google search is enough to put off most patients from even considering FUT as a viable option for hair transplant surgery.
So why would anyone consider FUT/Strip surgery in 2017?
Well, the answer to that is FUT or Strip surgery is still relevant and a great procedure for patients with more extensive loss and that have no plans to wear their hair very short in the donor area after surgery.
So to answer the earlier questions.
"How wide will the scar be?" Typically patients heal well and the scar will be 1-2 mm wide once healed…..however there is no guarantee that this will be the case and despite the best efforts of Dr Ball and his team YOU may be the patient that heals with a wider scar. It is your own personal skin and healing characteristics that can determine how your scar heals. Unfortunately there are not always indicators that this might be the case before surgery starts. Lots of movement (laxity) can be quite the contrary and despite less tension on the closure it can manifest into a wider stretched scar in some cases.
"How long is the scar?" This is dependant on the laxity of the donor skin as greater laxity allows for a wider piece of tissue to be removed- thus creating more grafts or a shorter scar compared to someone with less movement in their scalp. On average a larger session of over 2500 grafts the donor scar will be between 26-30 cm.
"How short can I wear my hair after surgery?" Most patients can wear a grade 3 or 4 in the area around the scar once healed. Some patients will be able to wear their hair shorter and others might need to wear it a little longer is the honest answer.
In one of our follow up meetings in Harley Street recently I was able to make a short film of this patient's donor scar after 2200 grafts with Dr Ball over 1 year ago. The scar was difficult to spot even for Dr Ball and myself due to the overwhelming influence of his skin characteristics. It is important to state that not all scars turn out this well but it is worth documenting just how little the scar can be an issue for some patients.
David Anderson
Senior Patient Advisor for The Maitland Clinic