FUT Hair Transplant Results – Day 8 After Surgery – Video Diary #12
21st August 2017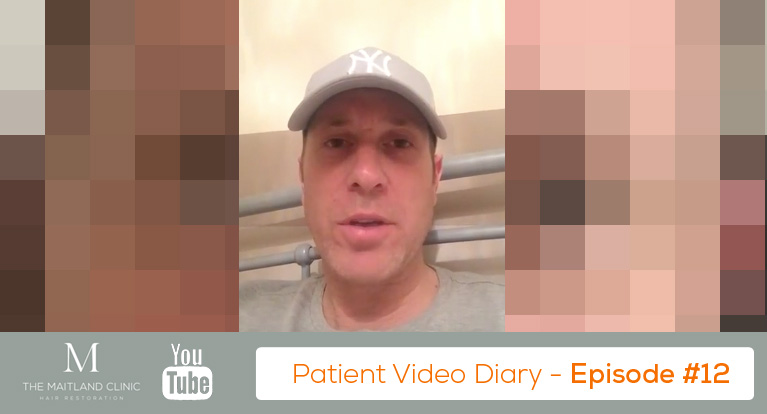 In our long-running video diary series of a real-life hair transplant patient we go to day 8 after surgery. In the video our patient gives a quick timeline of what's happened so far including the operation on the Tuesday, then back to work on the following Monday.
He gives some detail on his experience of going back to work (wearing a hat) and tells us how he chose to tell some work colleagues about what he had done. He's not hiding what he's had done and simply choosing to tell people if he wants to.
He can feel the stitches snagging now and again but nothing drastic, but they are being removed on the coming Friday afternoon which he is looking forward to. He has now managed to wash his hair properly three times, soaking with conditioner first then using a baby shampoo.
One aspect he has found hard is massaging the grafts, as he's worried about doing it too hard. A quick phone call with Dr Edward Ball put his mind at rest where the doctor said that most guys don't work the area to get the dry skin off, but it's hard to do it without worrying.
In terms of new videos, his plan is to go monthly with them unless something drastically changes – but these were all recorded a year ago, so we will be posting them on our YouTube channel more regularly so make sure you subscribe here.
This Friday he will be going to see The Maitland Clinic for the stitch removal, and he explains how supportive they have all been, with regular contact to make sure all is fine from Dr Edward Ball, Janna, and David Anderson the senior patient advisor. They have been impressive with their after-care and he can't fault them on it.
Previous & Future Video Diary Entries