Dr Edward Ball on The Hair Loss Clinic TV series
3rd November 2021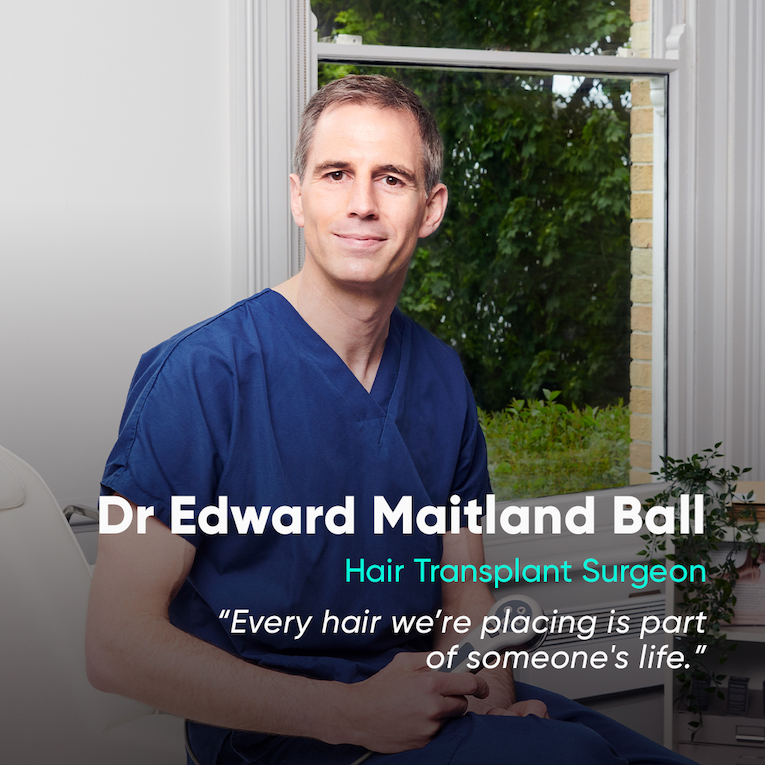 The Discovery+ TV series The Hair Loss Clinic follows the experiences of men and women receiving treatment at The Maitland Clinic for different hair loss and scalp conditions. Dr Edward Maitland Ball, our founder and medical director, is filmed examining and consulting with patients, as well as conducting a number of surgical hair transplant procedures.
After the production was completed, Dr Ball gave a short interview to provide some insights into the show, plus advice for viewers who feel they too might benefit from similar treatments…
Why did you agree to be filmed for The Hair Loss Clinic?
At first I did have some concerns about inviting TV cameras into the clinic, but I was very impressed by the Angel Eye Media production team: they were super-enthusiastic yet also sensitive and ethical in the way they wanted to approach the show. They genuinely wanted to show the emotional impact of hair loss and the potentially life-changing results of treatment for ordinary people.
Having spoken to them, I could see a number of benefits for opening up The Maitland Clinic to the world. On the one hand, I wanted people with hair loss to be educated about the options that are available to them. I think the show does a very good job of showing the psychological effect of hair loss in both men and women – how it can really wreak havoc on people's confidence and mental wellbeing… even their sense of self, of who they are. I wanted people to know that help is out there, that you don't need to be embarrassed about it or to suffer alone.
But just as importantly, I wanted people to see the realities of hair surgery and treatment. As the show demonstrates, the medical techniques are very sophisticated now and you can get fantastic results. But the world of hair transplants in particular is quite a dangerous one. There are many practitioners out there who don't offer the standards of professionalism that I would find acceptable. There are also a lot of adverts that seem to promise miracle cures, where your 20-year-old self is suddenly restored. For most people that's just not realistic.
The crucial thing is that each patient is an individual person, and their hair treatment has to be something that works for them and will keep working for them as they age and for the rest of their life.
Were you happy with the way the show turned out?
Yes, I'm quite happy with the final broadcast. I was initially anxious because I had absolutely no editorial control. But on those key messages – that support and treatment is available for people, and that successful treatment is not about miracles but about a realistic result that works for each individual for their whole life – yes, I think those points do come across well on The Hair Loss Clinic.
Are the episodes on the show an accurate representation of the day to day life in the Maitland Clinic?
Yes, very much so. The patients, the consultations, the hairline designs and the surgery are all real and are reflective of my day-to-day work. The same goes for Eva Proudman's trichology patients. In the show her patients are mostly women and mine mostly men, but we do both work with male and female patients.
Of course, I see a lot of patients who simply did not and would not wish to be filmed. Part of my work involves repairing poorly executed hair transplants carried out elsewhere, and it follows that those who are most devastated by bad transplants are the least likely to want to be filmed, so I do work with some more extreme cases than are shown on the series.
Are there any things people should know about hair treatment or surgery that they might not have picked up from the show?
Naturally the show is edited to make it watchable, so although it is a very good reflection of reality there are a few things that viewers might not fully appreciate.
One is that all our patients undergo a really thorough medical assessment before they are deemed suitable for a transplant. We use a very sophisticated piece of specialist camera equipment to analyse each person's scalp and we give them a scientific, quantitative assessment before advising on whether to go for a surgical procedure.
And at the other end, it's important to know how long it can take to see results following a transplant. For much of Eva's trichology work the results can be seen very quickly, but for transplants it's a process that takes on average 10 to 12 months, and we only had a 6 month filming schedule. In the show you can see one of my patients getting good hair growth at four months, but it generally takes a year for newly transplanted hairs to thicken and the full result to be seen.
What do you hope viewers will take from the show?
Well, a number of things. I hope people with hair loss will realise that there are genuine treatments available to them, and that seeking help is nothing to be embarrassed about. But they do need to do their research and consider a safe route into hair treatment. There are lots of advertised options for hair loss but only a few that are scientifically evidence-based and proven to be effective.
I hope they understand from the show that not all hair loss conditions can be cured, even with the most advanced medical techniques, but that if they speak to the right experts they can still achieve brilliant outcomes from concealers, cosmetics and hair systems.
I hope that people thinking about transplant surgery realise that you don't need to go abroad for it, and also that it doesn't need to be a frightening or unpleasant experience. As you can see from the show, it's a virtually pain free procedure in a friendly, calm environment… at The Maitland Clinic we always say that it's more like spa treatment than an operation.
Perhaps above all, I hope viewers take away the message that a transplant is not a quick fix, but a lifelong process and one that needs to be very carefully thought out. When I design a hairline it's always a natural shape for the individual for now but also for their future. So maybe not their dream hairline today, but the best possible one for the rest of their life.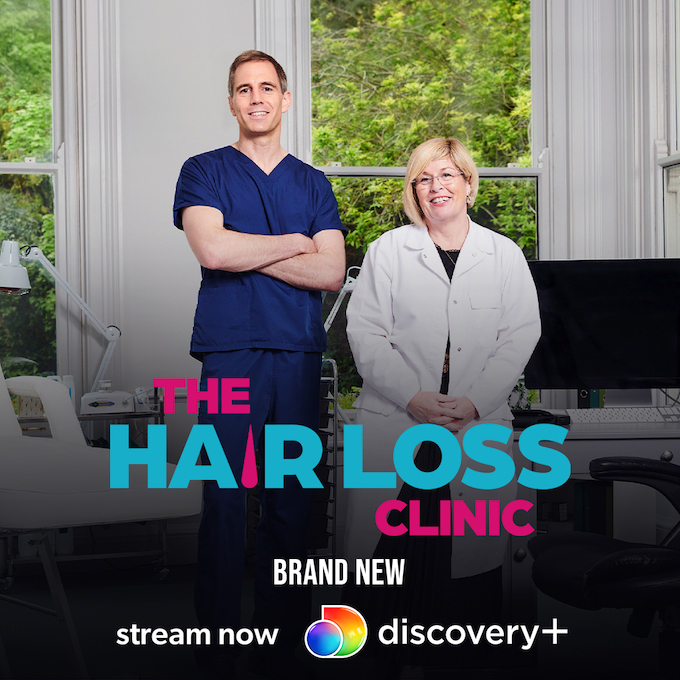 The Hair Loss Clinic TV series can be viewed on Amazon Prime, Discovery+ and for free on the TLC YouTube channel.