David Anderson of The Maitland Clinic on front page of Portsmouth News
22nd August 2016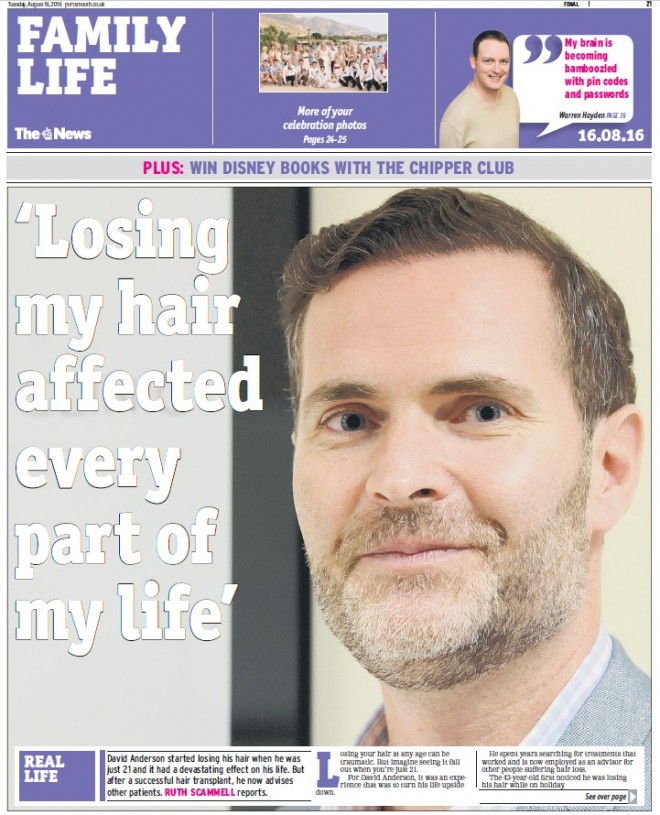 David Anderson our Senior Patient Advisor here at The Maitland Clinic recently made the front page of the local Hampshire paper The Portsmouth News in an interview about his twenty two year battle with hair loss. David opened up about how hair loss had affected every part of his life from loosing his hair at the tender age of 21 to how his search back then in the 90's to restore his hair lead to three poor hair transplants and ultimately repair surgery.
Anyone suffering from hair loss and considering a hair transplant in Hampshire, Portsmouth, Southampton and places in West Sussex such as Brighton should read this article to fully understand what can go wrong if you choose an inexperienced clinic to restore your hair or place price in priority over quality of work.
Asked to comment on the article David told The Maitland Clinic blog " Five to Ten years ago it appeared that the quality of the work had improved and that repair patients needing surgery to hide poor pluggy work were becoming a thing of the past. Unfortunately the popularity of the procedure has brought a huge surge of clinics opening their doors worldwide and at the centre of this has been the Turkey phenomenon"
David feels that due to the low prices offered in such countries and the raging competition is actually a bad thing for the industry. "New clinics are opening up weekly in Turkey offering cheap technician only FUE transplants. I have seen in the last few years just how damaging this can be to patients when it goes wrong. I have met with patients that have flown abroad from the UK for such mega session FUE surgery"
"4-5000 grafts for the average patient is the entire donor supply used by FUE and these technician clinics are using this amount and more in one session and in some cases in one day. If the growth from the hair transplant surgery is poor then that is ALL your donor hair used and you have no other options than to try beard or body hair transplants"
"People don't fully understand the risks to go through to save some money, the financial implications of the surgery are small compared to the cost of the damage caused to your donor hair and cost of future surgeries required to repair the poor growth that might occur. In most cases there is nothing you can do if the donor hair has been thinned out so much by over harvesting. A FUT or strip surgery is sometimes not possible as there is not the hair anymore to hide the donor scar"
"I have seen it first hand over the years which was why when choosing a skilled hair transplant surgeon like Dr Edward Ball that extracts the FUE grafts himself and can produce natural undetectable results was so important in my decision to work with him. I will be having my first FUE surgery with Dr Ball and the team later this year after 5 FUT surgeries and I will be sure to update The Maitland Clinic blog as soon as I do.
The link to the article can be found here Portsmouth News
Stay tuned for more details on David's FUE surgery with Dr Ball here.