The Harley Street Hair Transplant Specialists in FUE & FUT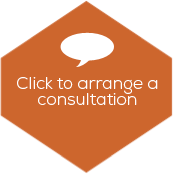 The Maitland Clinic is one of the UK's most well-renowned and trusted Harley Street hair transplant clinics, with an excellent reputation backed up my multiple testimonials and industry feedback. We treat both men and women, and are headed-up by Dr Edward Ball, one of the world's pre-eminent hair transplant surgeons.
FUE Hair Transplant Harley Street
We have a range of hair loss treatments available at our Harley Street hair transplant clinic, with one of the more popular being FUE, or Follicular Unit Extraction technique. It is an advanced technique that restores hair loss, without leaving linear scars.
Patients undergoing a FUE hair transplant through our Harley Street clinic will benefit from our expertise which is focused on achieving an natural result via our technical excellence and aesthetic understanding of how hair grows and what will work best for each individual patient.
What is a FUE Hair Transplant?
Chances are that you have already done some research into getting a FUE hair transplant on Harley Street, but just in case you need some additional information we would recommend watching our video below.
In technical terms, FUE involves the transfer of donor hair grafts from the permanent areas of the scalp to the areas affected by hair loss. Instead of taking a strip of skin donor hair (the FUT method), follicular units extracted individually and then transferred. This means that you are left with tiny dot scars instead of a linear scar and provides greater flexibility with hair length and styles.
If you are interested in knowing more, have any questions, or would like to book a consultation regarding FUE treatment through our Harley Street hair transplant clinic then please contact us today.
The Process
When you visit us to consider a Harley Street clinic hair transplant we will be able to explain the procedure in detail. We generally shave the donor area of your scalp in order to visualise and access the follicular unit grafts. However, we do perform long hair FUE (or non-shaved FUE) for smaller procedures. In both techniques, the follicular unit grafts are extracted individually using a variety of state-of-the-art instruments designed to harvest the highest quality follicles whilst preserving your donor hair supply and minimising scarring.
Our surgeon will then make minute microscopic slits in the area of your scalp where the hair is to be transplanted, and the grafts will be placed.
One of the main benefits to having a FUE hair transplant through our Harley Street, is that you will only be left with very small dot scars which are scarcely noticeable. If you opt for a FUT procedure, which we will discuss lower down the page, there will be a linear scar under the hair.
If you do choose to have the FUE procedure with us, then you will be administered a local anaesthetic so the day should be very comfortable. It takes a longer than FUT, but we always ensure that our client's visit to us is made as enjoyable as possible with films, magazines, and iPads whilst in theatre.
FUT Hair Transplants
We also offer patients the Follicular Unit Transplant technique (FUT) through our Harley Street hair transplant clinic. The FUT technique has been in practice for longer than FUE, but is still an excellent option for patients with extensive hair loss or who don't intend to shave their hair short in the future.
The Maitland Clinic's team, led by Dr Edward Ball and Janna Shafer, are among the world's leading exponents of FUT surgery. They combine surgical excellence with long experience and an understanding of the aesthetics of how hair grows, to ensure that each patient can achieve the best possible result.
What is a FUT Hair (Strip) Transplant?
As a leading London hair transplant consultation clinic on Harley Street, we have extensive experience in FUT. This is the process whereby we remove a thin strip of hair-bearing skin from a permanent area of your scalp, delicately dissect the individual follicular unit hair grafts under microscopes and transplant these grafts into the areas where you are suffering hair loss. Harley Street patients can take advantage of Dr Edward Ball's experience and reputation in this area, which you can see by viewing his profile.
The Process
After numbing the skin with local anaesthetic injections (like at the dentist), we start by removing a strip of hair-bearing skin from the donor area, which will usually be at the back of your head. This area is then carefully stitched up to ensure you have the best chance of having fine linear scar.
This donor strip is then placed under specialised high-powered microscopes and the surgical team meticulously divide it into tiny grafts of individual follicular units comprised of one to four hairs (as they naturally occur). These grafts are placed in a chilled tissue storage solution (Hypothermasol and ATP) until they are ready to be re-implanted.
Stitches will be removed around 10 to 14 days later, and the area will heal with a linear scar which is usually totally undetectable with hair worn at grade 4 or longer.
The next stage in the process of your hair transplant through our Harley Street clinic, London, will be for Dr Ball to make tiny incisions in the recipient area. The donor grafts are then placed into these sites, with great care taken to distribute them to achieve a totally natural look.
A FUT hair transplant will be performed under local anaesthetic so the day should be comfortable and will usually take between 4 and 12 hours.
Approximately four to six months after you have had a hair transplant through our Harley Street clinic (remove "is when") your new hair will start to grow through, and it will continue to thicken over 10 to 15 months. The transplanted hair will (remove "continue to") grow in the same way as that in the donor area, creating a natural, fuller head of hair.
Book a Consultation
If you would like to talk to us about your hair loss and the available treatments we offer, more of which can be found on our treatments page, then please do contact us to arrange a consultation. We also have some information on the costs so please click here for those details.
Harley Street: Hair Transplant Clinic Location
The Maitland Clinic is conveniently located in London at our Harley Street address which you can see below, and also on the map.
The Maitland Clinic
10 Harley Street
London W1G 9PF
Phone: 0800 612 6076
International: +44 (0) 20 7467 8509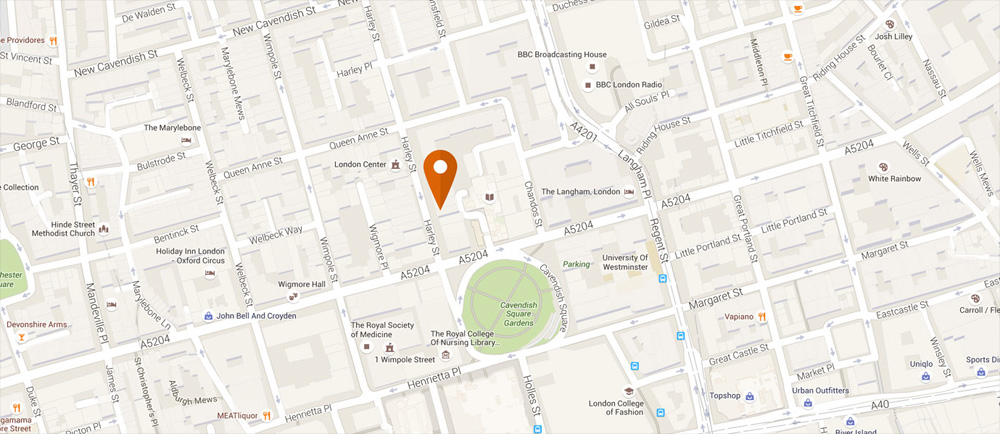 Our Harley Street hair clinic is a short walk from the following London Underground stations:
Oxford Circus Tube Station (7 minute walk)
Bond Street Tube Station (8 minute walk)
Great Portland Street Tube Station (11 minute walk)
Baker Street Tube Station (16 minute walk)