Theradome laser helmet – as featured on The Hair Loss Clinic TV series
11th November 2021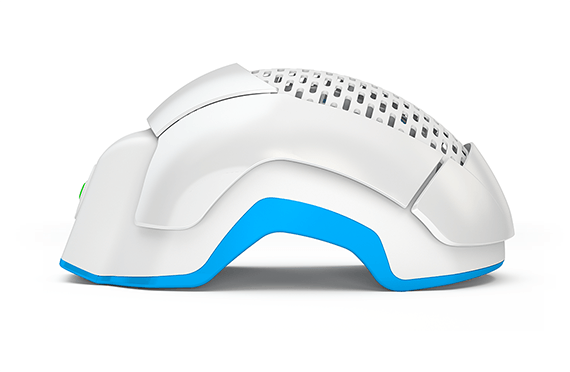 In the Discovery+ TV series The Hair Loss Clinic several patients suffering from hair loss are successfully treated by trichologist Eva Proudman using a Theradome laser helmet. The Hair Loss Clinic TV series can be viewed on Amazon Prime, Discovery+ and for free on the TLC YouTube channel.
The helmet uses low level laser therapy to prevent further hair loss and to encourage growth, and is available to purchase through The Maitland Clinic. Here are the key things to know.
What conditions is the Theradome laser helmet used to treat?
The Theradome laser helmet can treat a variety of hair loss and thinning complaints, including pattern hair loss (androgenetic alopecia) in both men and women.
How does the Theradome laser helmet work?
The helmet uses 80 custom-made clinical strength lasers to flood the scalp with photo-energy, which increases blood flow to the scalp, decreases inflammation of the scalp, and stimulates cell metabolism.
These factors contribute to restoring the body's natural healing process by rebalancing the biochemical processes that nurture hair follicles and stimulate hair growth.
The helmet is essentially a portable, home version of the Laser Phototherapy machines commonly used in clinics and hospitals.
Is the Theradome laser helmet proven to treat hair loss?
Multiple clinical trials have shown that low level laser therapy can reduce or prevent hair loss, increase the thickness of hair and return thinned vellus hair to a natural, healthy terminal hair state.
It's important to note that results will vary from patient to patient, depending on factors including the severity of their hair loss, their personal physiological responsiveness to the treatment, their genetic makeup, and any underlying medical conditions. However, at the Maitland Clinic we have seen many positive results and numerous patients who have benefitted from using the Theradome laser helmet.
How often should you use the Theradome laser helmet, and how long will it take to see results?
A trichologist will advise each patient on using the helmet, but the standard routine is to use it for 20 minutes twice a week or more on clean damp or dry hair (but only once in any 24 hour period).
The time it takes varies from person to person but hair changes can be seen in as little as three months. The helmet can be used in combination with other hair treatments and medications such as minoxidil.
Is the Theradome laser helmet easy to use?
The helmet is extremely simple to use at home. It has just a single control button and uses a voice to speak instructions: once on, it is completely hands free.
A vocal readout tells you how many treatments you have carried out so far and warns you when the battery needs charging (generally after around 7 treatments).
Is the Theradome laser helmet painful or dangerous?
No, the laser process is completely painless and non-invasive, with negligible side effects.
The Theradome PRO LH80 is FDA cleared and is approved for use by doctors, dermatologists, hair restoration surgeons and trichologists across the world.
How much does the Theradome laser helmet cost?
The Theradome PRO LH80 laser helmet is priced at £899 when bought via The Maitland Clinic – contact us on 02392 706122 or enquiries@themaitlandclinic.com.
Is the Theradome laser helmet right for me?
The Maitland Clinic's specialists will discuss the potential benefits and advise you on whether laser therapy is the right treatment for your hair, combined with other non-surgical treatments, instead of surgery or in conjunction with a transplant procedure to help optimise the post-surgery results.
If you would like to know more you are welcome to complete an online consultation form so that we can establish whether a Theradome laser device is the right treatment option for you.
To purchase a Theradome laser helmet for £899 contact us on 02392 706122 or enquiries@themaitlandclinic.com.