How much does a hair transplant cost in Bournemouth?
16th October 2023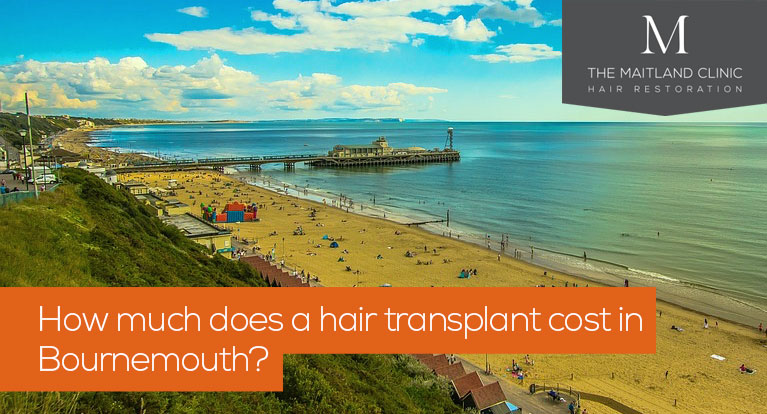 When researching options for a hair transplant, there are many factors involved such as choosing a surgeon based on trust, experience, and aftercare. Another factor for many people will be the cost and price involved. Unlike many hair loss clinics, The Maitland Clinic is open and transparent on prices, and even lists them on our website.
If you live in Bournemouth and want to know how much a hair transplant could cost you if you choose to proceed with us, here's the short answer.
An FUE hair transplant could cost you £7,500 if the procedure involves 1,500 grafts. For 2,000 grafts, patients visiting us from Bournemouth would pay £10,000. An FUT hair transplant works out a little cheaper at £7,000 and £9,000 respectively.
However, every case is different and assessed on an individual basis. Bournemouth hair transplant candidates are advised to seek an in-person consultation with The Maitland Clinic when comparing graft numbers and prices between different clinics. Making choices simply based on graft numbers and pricing can sometimes lead to disappointment. The success of a hair transplant will be hugely influenced by the artistry, skill and experience of the surgeon and their team of technicians.
We recommend that you don't choose your hair transplant based on cost and price alone. You simply must research who it is that will be performing the surgery – at The Maitland Clinic our surgeon is Dr Edward Ball, a globally renowned surgeon with a reputation for truly natural-looking results and exceptional patient care. You can read countless reviews of Dr Ball's work on the hairlossexperiences.com forum and learn about his experience in his extensive biography.
We are confident that once you have read more about Dr Ball it's likely that you won't want to use anyone else. If you would like to book a consultation with us today please contact us.
Image credit: Free for use under the Pixabay, by Diego Torres