Eva Proudman – Trichologist on The Hair Loss Clinic TV series
3rd November 2021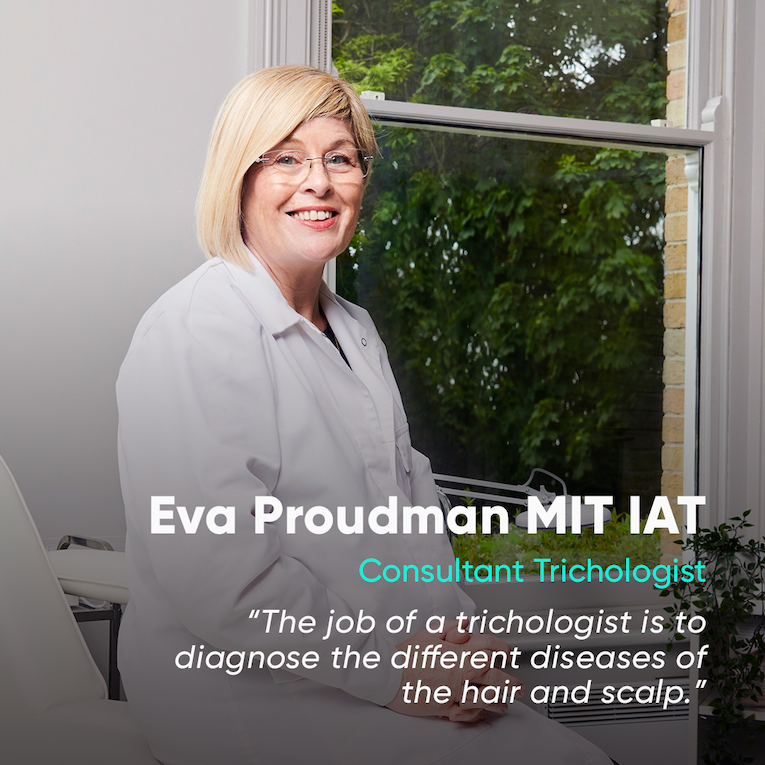 Eva Proudman MIT IAT features on the Discovery+ TV series The Hair Loss Clinic, which follows the experiences of women and men suffering different hair loss and scalp conditions. Eva is a consultant trichologist and she is filmed consulting with and treating a variety of patients, listening to their stories and helping them to recover from their hair loss and find their confidence and self-esteem.
After the series aired, Eva gave a short interview to provide some insights into the show, plus tips and advice for viewers suffering from similar conditions…
Why did you agree to be filmed for The Hair Loss Clinic?
There were two main reasons. Firstly I wanted to signpost to the public that there are places you can go to get real help with hair and scalp problems – because so many people don't realise.
Hair loss is not something people go to their GP for, or can readily get treated on the NHS: in medical terms it's considered low priority. And yet it has a huge emotional impact, as you can see from the show. So many people – women and men – lose their confidence, even their sense of who they are. I wanted the TV series to show that there is proper specialist medical help out there, and that it's affordable and accessible to ordinary people.
The second, related reason is that I wanted to help promote the field of trichology itself. Again, people generally don't even know that we exist. Trichology is not a well-known term in popular culture compared to things like dentists or chiropodists… But we're here and we're qualified specialists who work exclusively with the hair and the scalp, and we can help!
Were you happy with the way the show turned out?
Yes, having watched it back I feel it gives a good, even portrayal of the realities of hair loss and the different treatments that can help. Above all, it shows how people feel about hair loss, and how emotionally vulnerable they can be.
Very often the first thing a patient says to me at a consultation is 'I know there's nothing you can do for me'. But then they're amazed when they find that there is something I can do; that they can try a treatment. That feeling of positivity, of being able to proactively do something about a condition they felt that had no control over… that's a very powerful, transformative thing for people.
Are the episodes on the show an accurate representation of the day to day life in your practice?
Yes – I see lots of different cases every day but the show is a pretty accurate snapshot of the patients and conditions I typically see in my clinic. The show also gives an accurate view of the process: the initial consultation, then the diagnosis and action plan, then the review and follow up. There was no trickery or airbrushing on the show: everything is exactly as it is in the clinic.
After the first episode aired we had a consultation day in our Harley Street clinic and it was full of people who'd seen the show. Virtually every single one said 'Gosh, it's just like on the TV!' – meaning the way I examined them but also how I talked to them and how I came across as a person… so that was good to know!
I also think the show was accurate in terms of showing a realistic range of results, and the way that regrowth is a gradual process taking at least four to six months, not an overnight miracle.
Are there any things people should know about trichology and hair loss treatment that they might not have picked up from the show?
I think it's really important that viewers know that not every trichologist is equal. If you want to see a specialist like me, one that's properly trained and qualified, then make sure you see a member of the Institute of Trichologists.
Specialists with the MIT initials after their name are governed by a strict code of ethics and have to do continuous professional development to keep their status.
Just as important: if your trichologist seems to be just trying to sell you a treatment plan, then please get a second opinion. A good trichologist won't just be recommending treatments or medications. They will try to use over-the-counter medication where possible, and will refer you to specialist dermatologists when necessary for prescribed medications.
There's one more thing that might not come across in the show, which is that I help a lot of people, especially younger men, who are not suitable for a hair transplant surgery with Dr Ball. Surgery isn't the right option for some people but there's still lots that can be done. So if you have been told that a transplant isn't for you, then please do consider seeing a trichologist.
What do you hope viewers will take away from The Hair Loss Clinic?
I want viewers to feel that there is hope for them, whatever their condition. If you're suffering from hair loss you may have been told there's nothing that can be done… But there always is!
For example, we work all the time with fantastic specialists in cosmetic solutions, so while it's true that not every patient is medically curable or can see 100% hair regrowth, there will still be a great cosmetic solution for you.
There is always something we can do to make you feel better about your hair loss, and about yourself.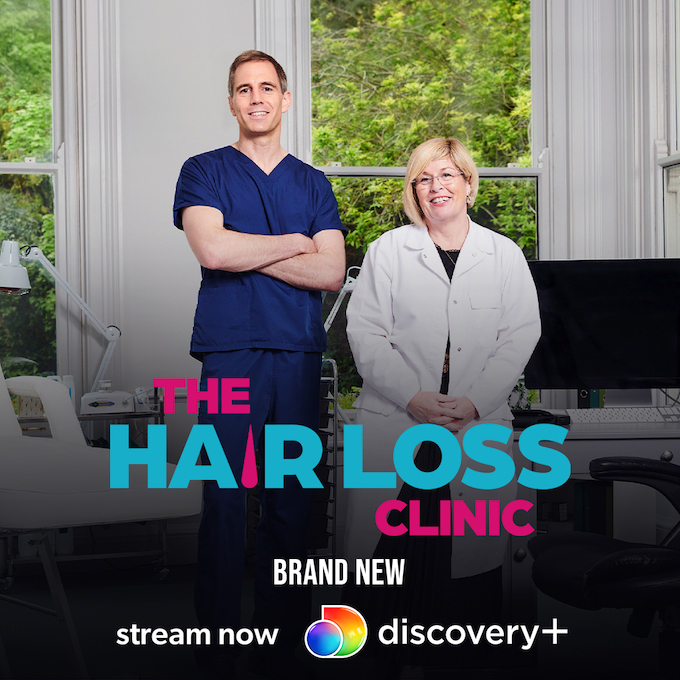 The Hair Loss Clinic TV series can be viewed on Amazon Prime, Discovery+ and for free on the TLC YouTube channel.