COVID-19 – A guide for patients at The Maitland Clinic
1st November 2020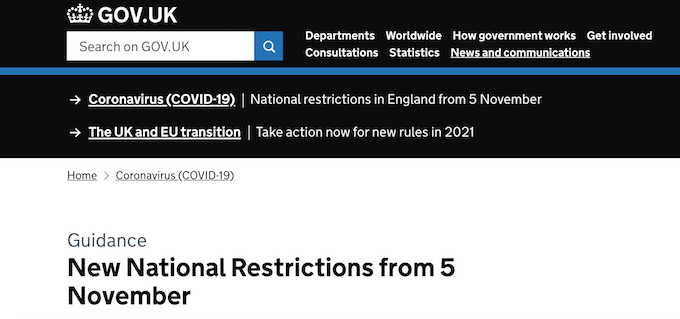 New national restrictions from 5 November 
You may be anxious about how the new national restrictions relating to COVID-19 will affect your appointment at The Maitland Clinic. The published government guidance on the new national restrictions due to be implemented between 5th November and 2nd December states that travel for "medical appointments" is permitted. The Maitland Clinic therefore remains open and fully functioning as a COVID-secure medical clinic. We continue to implement robust COVID-19 infection control policies which can be seen below.
---

The Maitland Clinic COVID-19 policy
The Maitland Clinic is now operating as a COVID-protected facility. In response to the COVID-19 outbreak, The Maitland Clinic temporarily closed on 23rd March 2020 in order to protect patients and staff and to comply with government guidelines. Current guidelines from Public Health England and medical bodies such as the International Society of Hair Restoration Surgery (ISHRS) have provided a clear framework on which we have been able to reopen The Maitland Clinic as a COVID-secure workplace and a COVID-protected medical facility.
As a world-class hair transplant clinic, our clinical policies and high standards in infection control have always provided a very safe clinical environment for our patients. We have now integrated the latest government guidance into our already-robust policies so that we can be confident in offering the most up-to-date and clinically safe experience possible at The Maitland Clinic.
The ISHRS has helpfully outlined the following advice for patients when looking for a clinic.
Look for a clinic that is a "COVID-Protected Facility"

A COVID-protected facility…

Routinely asks patients for a relevant COVID-19 history of their own health and their contacts. It is important that patients provide accurate information.
Follows social distancing guidelines by limiting contact of patients with one another whether in consultation or in a procedure and will arrange waiting room seating accordingly.
Uses suitable equipment/PPE (Personal Protective Equipment) as recommended by Public Health England.
Routinely uses relevant health histories and daily temperature monitoring of all clinic staff and patients as part of their strategy to prevent contagion. Additionally, and where available, follows all government guidelines on use of testing to monitor staff.
In addition to using proper PPE, it uses appropriate cleansing, disinfecting and sterilisation procedures throughout the clinic. It also uses proper waste disposal methods for any materials that could be contaminated.
Advises patients of hand washing protocols in the office/clinic and how to change gloves, gown and masks.
Assures the public that the staff have received additional training with regards to proper COVID-19 infection control methods.
And perhaps most importantly, the surgeon you have chosen is the one performing the surgical steps of your procedure, rather than delegating it to unlicensed technicians.
Reducing footfall within the clinic
In order to reduce footfall within the clinic, we do not carry out face-to-face consultations on the same day as our hair transplant surgery and platelet-rich plasma (PRP) treatments. All face-to-face consultations are held on a specific day to reduce exposure to our patients who are undergoing procedures. Where possible, we encourage consultations to be held via video calls for the convenience of our patients and in order to maintain social distancing.
When travelling to the clinic, we encourage patients to avoid public transport if possible. All our staff travel to work on foot or by private car.
In order to avoid contact between visitors to the clinic on consulting days, we have closed our waiting room and ask patients to call the clinic when they arrive and wait in their car or in the building atrium. Once we have cleaned all hard surfaces in the consulting room, we call the next patient and ask them to enter the clinic.
As a further attempt to reduce exposure, we ask all visitors to try to come alone. We can explore ways to minimise risk if it is important for someone to bring another member of their household with them.
Before entering the clinic
We ask all our patients and staff to strictly comply with government guidelines with respect to travel, social distancing and hand hygiene.
All patients booked for consultations or treatments at The Maitland Clinic are asked not to attend if they display any symptoms consistent with COVID-19, 0r if they have been exposed to any contacts with suspected infection.
We ask all patients to complete a screening questionnaire 48 hours before arrival at the clinic to establish the potential risk of COVID-19 exposure during the preceding 30 days.
Before entering the clinic, all staff and all patients attending for consultations or treatment are asked to complete the COVID-19 screening questionnaire for a second time to ensure that there have been no changes in their exposure or the development of any symptoms.
Before entering the clinic all staff and all patients have their temperature checked with a non-contact infrared thermometer.
Any individuals identified by screening questionnaire or temperature check as high risk will be asked not to enter the clinic and to seek medical assessment in line with Public Health England guidelines.
COVID-19 screening swabs and antibody tests are being considered by the clinic and will be implemented if they have demonstrated satisfactory sensitivity and specificity, in line with government guidance.
Within the clinic
Within the clinic, we attempt to maintain social distancing wherever possible. However, during the course of a scalp assessment or treatment, it will not be feasible to remain 2m from our clinical staff. Staff and patients are therefore provided with personal protective equipment (PPE) in line with Public Health England guidelines. Our staff wear type IIR surgical facemasks, visors/eye protection, aprons/gowns and gloves throughout all clinical contact with our patients.
On entering the clinic, all patients attending for consultations, PRP or surgery are asked to wear facemasks for the duration of their visit (gloves, visors/eye protection and gowns are available but not currently recommended). All patients are taught how to safely put on and take off their facemask in line with government guidelines. Before putting on a mask, hands should be cleaned with alcohol-based hand rub or soap and water (washing for at least 20 seconds). The mask should cover above your nose and below your chin, with the metal nose strip bent to fit your face snuggly, ensuring there are no gaps between your face and the mask. It is important to avoid touching the mask while using it. If the mask is touched, you should clean your hands again with alcohol-based hand rub or soap and water. The mask should be replaced if it becomes damp or difficult to breathe through.
Alcohol-based hand gel is readily available throughout the clinic for patient and staff use.
Cleaning
Our robust cleaning policy has been updated in line with government guidelines. Within a treatment or consulting room, all hard surfaces are thoroughly disinfected between patients and all contact points such as door handles are cleaned every 2 hours. All waste is disposed of daily and in line with current guidelines.
Recovery
We take every possible precaution to minimise the risk of exposure to COVID-19 at The Maitland Clinic. However, there is always a risk of exposure while the virus remains prevalent in the community. We ask all patients to complete a specific COVID-19 consent form to acknowledge this.
Practical issues
We are sorry that the current COVID-19 situation prevents us from providing our usual meal service for patients. In order to reduce infection risk, we recommend that patients bring their own lunch.
As hotels are currently closed during the COVID-19 outbreak, most patients will need to travel to and from the clinic on the day of their consultation or procedure. Although this is likely to create a long day for a patient undergoing hair transplant surgery, this should not present a problem as long as somebody else is allocated the driving.
Reassurance
If you have any concerns or questions regarding your upcoming appointment at The Maitland Clinic please don't hesitate to get in touch by phone (02392 706122) or email (enquiries@themaitlandclinic.com).